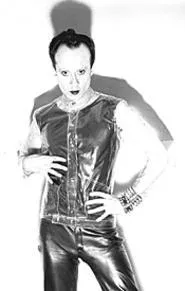 Would you like to touch his monkey? Klaus Nomi's life (on earth and other places) is chronicled in The Nomi Song (Thursday).
Thursday, April 28
Things are looking up for Sacramento's Still Life Projector. The emo band's 2004 indie CD The Dance Riot is being re-released on Tuesday by genre fave Victory Records. The wider distribution should mean more fans for the group, which plays around with the same soft-verses/loud-choruses structure that its peers adore. It also means more road time for the quintet, which comes to the Pirate's Cove (2083 East 21st Street) at 7 tonight. Tickets are $8, available by calling 216-241-5555.
"He was a freak among the freaks," says one of Klaus Nomi's friends in The Nomi Song, a profile of the German new-wave singer-performance artist who floored N.Y.C.'s hip elite in the late '70s with his high, operatic voice. Nomi dressed in space-age costumes, appeared with David Bowie on Saturday Night Live, and was no doubt an inspiration for that program's "Sprockets" skits more than a decade later. This appealing but modest documentary -- which compiles tons of clips, including a priceless pie-making demonstration from a cable-access show -- relies on pals and scene-makers to dish on Nomi (who died of AIDS in 1983). Now is the time we watch! It's at the Cleveland Cinematheque (11141 East Boulevard) at 9:05 tonight and 8:50 p.m. Sunday. Admission is $8; call 216-421-7450.
Friday, April 29
Detroit's Gore Gore Girls are the missing link between the Ronettes and Hole. Burying themselves in such '60s girl-group staples as handclaps and "la-la-la" choruses, and then topping it all off with distorted guitars and primal screams on their latest EP, 7 X 4 Gore, the Girls are kinda threatening too. But in a playful way -- a little like the Ramones. The girl-group connection and leather jackets seal it. They're at the Lime Spider (207 South Main Street in Akron) at 9:30 p.m. Tickets are $5; call 866-468-3401.
Saturday, April 30
We're as intrigued as we are a little freaked out by the "gigantic popcorn art sculptures" promised at this weekend's Popcorn Art Days in Chagrin Falls. Do we marvel at their aesthetic beauty and contemplate their deeper meanings? Or do we drench them in several gallons of fake butter and eat them? Yo-yo masters will also be there, passing on tricks of their trade (learn Buddha's Revenge and Rock the Baby on the Eiffel Tower!). Tomorrow, the third-annual Roll'n on the River Rubber Ducky Derby takes place at 2 p.m., in which 3,000 of the little fellas plunge over the Chagrin River's falls. The first 10 ducks to cross the finish line win a prize (hopefully, it's one of those big-ass popcorn sculptures). It all happens from 1 to 4 p.m. today and tomorrow in downtown Chagrin Falls. Admission is free; if you want to participate in the derby, ducks cost $5. Call 440-247-1895 for more info.
Some people mark the first real sign of spring by the flowers that are blooming. Others gauge it by the start of the baseball and golf seasons. We say spring ain't here till the sheep are shaved! And since today's Sheep Shearing Day at the zoo, it can mean only one thing: Warm weather has finally arrived. So grab a pair of shorts, hoist a glass of lemonade, and head to the Cleveland Metroparks Zoo (3900 Wildlife Way) at 11 a.m. to check out the sheep's new 'dos. Admission is $9, $4 for kids. For more information, call 216-661-6500.
Sunday, May 1
Bob Newhart won't go away. Not that we're complaining. We just figured he'd call it a day after two insanely successful -- if not imaginatively titled -- sitcoms. But his droll performance as Papa Elf in 2003's Elf and his recent stint on Desperate Housewives prove that the 75-year-old legend has no plans to settle down anytime soon. He's showing off his vitality by hitting the road for a stand-up tour, which touches down at the Palace Theatre (1519 Euclid Avenue) at 3 today. Tickets are $30.40 to $44.50; call 216-241-6000.
Monday, May 2
Despite its title, Digging the Mystery: Photographs From the Danbury Site contains more than just pics of the excavation team that explored the Sandusky Bay region last summer. Artifacts and info detail the archaeological squad's search for prehistoric Native American tools, weapons, pottery, and bones. They're at the Cleveland Museum of Natural History (1 Wade Oval Drive) through August 1. It's open from 10 a.m. to 5 p.m. Monday through Saturday and noon to 5 p.m. Sunday. Admission is $9, $7 for kids; call 216-231-4600.
Tuesday, May 3
Oklahoma! is the hoariest of musicals. But that doesn't mean it lacks the ability to wow with all its theatrical razzle-dazzle. (It didn't run for 15 straight years for nothing.) Rodgers & Hammerstein's first collaboration is about feudin' cattlemen and farmers, and two cowboys pining for the same gal. It's the songs, however, that stick with you in this spiffy new touring version, which opens tonight at the Palace Theatre, 1519 Euclid Avenue. Show times are 7:30 p.m. Tuesday through Friday, 1:30 and 7:30 p.m. Saturday, and 1 and 6:30 p.m. Sunday through May 15. Tickets are $25 to $50; call 216-241-6000.
Wednesday, May 4
It was 35 years ago that the National Guard fired on protesting students at Kent State University, killing four. The school's May 4 Task Force is marking the anniversary with a day's worth of programs under the theme "Tell Me Father, Did They Aim?" Festivities (if you can call them that) actually started at midnight last night, with a silent candlelight vigil that runs till 12:24 p.m., the time in 1970 that the guardsmen began firing. Guided tours -- which weave through the Commons and note the bullet holes that still exist in some structures -- are 9 a.m. to 11 p.m. From noon to 3 p.m., a bevy of speakers -- including witnesses, siblings of the slain, and the executive director of Amnesty International U.S.A. -- relive the blot on our nation's history. Events take place on the university's grounds in Kent. See http://dept.kent.edu/may4.