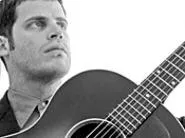 Jaywalker Josh Joplin takes a walk on the wild side (Wednesday).
Paramore
's not your average emo band. For one thing, it hails from the very un-emo state of Tennessee. Plus, it's led by 16-year-old Hayley Williams -- a
girl!
Its debut CD,
All We Know Is Falling
, crams chunky riffs into super-catchy songs, all anchored by Williams, a charming firecracker of a singer. Paramore plays the Agora Ballroom (5000 Euclid Avenue) at 6:30 p.m. Tickets are $10; call 216-241-5555.
Sometimes authors write about flying as a metaphor for freedom. Sometimes they write about it to feel closer to God. And sometimes they write about it because they just really, really like to fly. "I was seduced into flying," says Clyde Edgerton, whose new memoir, Solo: My Adventures in the Air, chronicles his love affair with flight. "People who've dreamed about flying know that it's usually a positive and exciting dream, if they're not falling. In my case, the magical feeling that comes in a dream is transported to real life when I'm flying." Edgerton's small-town satires (Lunch at the Piccadilly and The Floatplane Notebooks) have their roots in his southern childhood; Solo, too, traces a line to his past. "The book is an attempt to unweave some of the woven feelings of regret from being involved in the war," says Edgerton, who flew combat missions with the Air Force during Vietnam. "But there's exhilaration in flying those powerful airplanes." Edgerton talks about going Solo at 7 p.m. at Joseph-Beth Booksellers, 24519 Cedar Road in Lyndhurst. Admission is free; call 216-691-7000.
The African island of Comoros has endured nearly 20 coups over the last 30 years. With that sort of political instability, it's a wonder anyone has time for recreational activities like making music. Nawal, touted as the first female Comoran singer to perform in public, has managed more constancy than her country's government has during the past two decades: She sang and played percussion and guitar with several groups (Donna Africa and Touloulou, among them) before going solo in 2001 with a multitextured style of world music that blends African rhythms and native island grooves. The Voice of Comoros stops at Wilbert's (812 Huron Road) at 9:30 tonight. Tickets are $10; call 216-902-4662.
Tonight's Raucous Bacchus party, hosted by Art House, pays tribute to our favorite Roman deity, the god of wine. Five vinos from Madison's Debonné Vineyards will be there for sipping. Beer will also be on tap, because Bacchus does double duty as the god of beer. Actually, he's also the god of song and ecstasy. DJ Santina Protopapa's got the former covered tonight. You're on your own for the latter. Juice up and pig out (complimentary eats will be available) at 7 p.m. at Artefino Gallery Café, 1900 Superior Avenue. Tickets are $30. Call 216-398-8556 for more information.
In The Ninth Day, a Luxembourg priest, on temporary leave from the Dachau concentration camp where he's imprisoned, has nine days to convince the Vatican that the Nazis aren't such bad guys after all. If the priest tries to escape, his fellow clergyman at Dachau will be killed. Many theological discussions with a young Gestapo officer -- a seminary-school dropout -- follow as the cleric draws parallels to Judas, betrayer of Jesus. Based on a true story, the film skillfully balances religious doctrine, World War II history, and provocative questions of faith and devotion. The Ninth Day is at the Cleveland Cinematheque (11141 East Boulevard) at 7:30 tonight and 4:15 p.m. tomorrow. Admission is $8; call 216-421-7450.
The sixth annual Cinema Wasteland expo celebrating drive-in-movie memorabilia winds down today with appearances by B-movie guests (Amy Lynn Best from Dr. Horror's Erotic House of Idiots), genre publishers (Dead Dog Comics), and horror-movie utility guys (Tom Sullivan from The Evil Dead). Also, there's a get-together featuring the original Dawn of the Dead cast and a Devil's Rejects reunion. All this, plus tons of vendors unloading everything from vintage toys to magazines. It happens from 11 a.m. to 5 p.m. at the Holiday Inn Select, 15471 Royalton Road in Strongsville. Admission is $15; call 440-891-1920.
Jeffry Chiplis' sculptures -- crafted out of old neon signs -- inhabit a world that's a little bit Saturday night, a little bit Wednesday-afternoon bong session. His latest exhibition, It's a Gas! Sculpture With Light and Color, includes pieces fashioned out of leftover neon signs from an old dry-cleaning store. They're on view at the Sculpture Center (1834 East 123rd Street) through October 21. It's open from 10 a.m. to 4 p.m. Monday through Friday and noon to 4 p.m. Saturday. Admission is free; call 216-229-6527. See Art/Stage for review.
Between her first and second albums, singer-songwriter Lhasa formed a circus troupe with her three sisters and spent a couple years under the big top. It's fitting that her second CD, The Living Road, uses a carnival of sounds that range from Mexican folk songs to the avant-rock favored by Tom Waits. With her deep, husky voice (singing in English, French, and Spanish) and aural excursions, Lhasa comes on like a ringmaster of uncanny torch music. She performs at 8 p.m. at the Beachland Ballroom, 15711 Waterloo Road. Tickets are $15; call 216-383-1124.
Singer-songwriter Josh Joplin's latest CD, Jaywalker, shuffles from jubilant acoustic sing-alongs to introspective and moody rockers. He's got a thing for '80s modern rock: He sorta sounds like Michael Stipe, and songs like "Jaywalkers of the World" pay homage to the Smiths. But he also writes catchy pop songs that are as liberating as they are hopeful. Joplin's at Case Western Reserve University's the Spot (1619 Mistletoe Drive) at 9 tonight. Admission is free; call 216-368-2786.