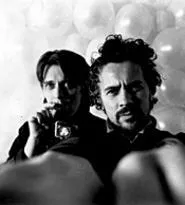 The Flaming Lips take time out from battling pink robots to star in a documentary about their career (Saturday).
Thursday, October 20
We're sorta bummed that tonight's Charity Bachelor Auction won't put host Sandra Hubby (better known as Playboy's Miss March 2004) on the block. Still, the dozen guys plucked from GD Water Street Tavern's stable of bartenders and bouncers reveal some interesting pre-auction tidbits about themselves. For example, Paul lists The Little Mermaid as his favorite movie. And did you know that Ryan's idea of a perfect date includes "betting on the doggies at Northfield Park"? Go get 'em, ladies! Bidding starts at 10 p.m. at GD Water Street Tavern, 132 South Water Street in Kent. Admission is free; call 330-677-0700.
The only thing that could possibly make the Cleveland Metroparks and Akron zoos' Boo at the Zoo events more excellent would be if the animals dressed for the occasion. You know -- elephants disguised as monkeys, tigers wearing flamingo costumes. That kinda thing. Still, it's hard to find fault with these Halloween-themed outings, for which little kids don outfits and swarm the grounds in search of treats. The Cleveland Boo features live animal shows and magic and puppet performances. Akron visitors can glimpse the new Legends of the Wild and Komodo Kingdom exhibits. Both events run through October 30. Metroparks Zoo (3900 Wildlife Way; 216-661-6500) is open 5:30 to 8:30 p.m. Thursday through Sunday; admission is $6 (kids under two get in free). The Akron Zoo (500 Edgewood Avenue in Akron; 330-375-2550) is open 5:30 to 8 p.m. Thursday through Sunday; admission is $8 ($4 if you're not trick-or-treating).
Friday, October 21
1300 Gallery's latest untitled exhibit (opening today) features paintings, films, illustrations, and mixed media by a pair of artists, Cleveland's Tim Callaghan and Thomas M. Lowery from Washington, D.C. On the surface, the connection seems tenuous: Callaghan's colorful landscape paintings versus Lowery's cartoonlike black-and-white drawings. But there's a link between their work, one of sadness and desolation that can be traced to the past -- whether it's Callaghan's empty urban streets or Lowery's melancholy glimpse of childhood. They're on view through November 17 at 1300, 1300 West 78th Street. Hours are noon to 4 p.m. Monday through Friday. Admission is free; call 216-939-1300.
This weekend's Magical Whooloween focuses on the season's most emblematic bird: the owl. Its Exorcist-like ability to rotate its head almost 300 degrees, coupled with all that spine-chilling hooting, is enough to put anyone in the mood for Halloween. This kid-friendly event features crafts, storytelling by campfire, a costume contest, and a hike in search of some real owls (your guide will even test his owl-calling skills on the trail). All this, and train rides through the Pumpkin Forest! Hoot and holler from 5:30 to 10 p.m. today and tomorrow at Penitentiary Glen Reservation, 8668 Kirtland-Chardon Road in Kirtland. Admission is $5, $4 for kids; call 440-358-7275.
Saturday, October 22
Before they became the era's best prog band, the Flaming Lips were noisy punks who couldn't play their instruments. Their evolution is charted in The Fearless Freaks, an absorbing documentary that reveals the group's many achievements and contradictions. For one, despite the acid-fried nature of his work, leader Wayne Coyne is normal, likable, and drug-free. From the Lips' ratty beginnings in Oklahoma (it's still their home base) to their snagging a surprise hit with "She Don't Use Jelly" to the making of their last two mind-blowing CDs, Freaks doesn't shy away from the more troublesome facets -- in particular, heroin-addicted guitarist Steven Drozd shoots up on camera. Ultimately, though, it's an affectionate portrait of a revolutionary band. It's at the Cleveland Cinematheque (11141 East Boulevard) at 10:05 tonight. Admission is $8; call 216-421-7450.
Sunday, October 23
We can understand why Los Angeles' My Ruin would align itself with Jägermeister's Double Shot of Rock Tour Part II, which comes to the Hi-Fi Club today. The bludgeoning tunes found on the hard-rockers' latest CD, The Brutal Language, are the musical equivalent of downing a dozen shots of Jäger in an hour: Both leave you distorted, wasted, and totally spent. Show time is 2 p.m. at the Hi-Fi, 11729 Detroit Avenue in Lakewood. Tickets are $5; call 216-521-8878.
Monday, October 24
In Glacial Erratica: Art of Charles Herndon, 10,000-year-old boulders that washed up on the shores of Kelleys Island are transformed into mystical, magnificent sculptures. The pieces resemble such natural wonders as an ocean wave and a female torso. They're at the Cleveland Museum of Natural History (1 Wade Oval Drive) through March 5. It's open 10 a.m. to 5 p.m. Monday through Saturday, 10 a.m. to 10 p.m. Wednesday, and noon to 5 p.m. Sunday. Admission is $7, $5 for kids; call 216-231-4600.
Tuesday, October 25
On their seventh album, Smart Kid, Vancouver's Clumsy Lovers incorporate old-fashioned themes and instrumental breaks pilfered from the Americana songbook. The decade-old quintet knows the value of a good noodle session. And by mixing and matching banjo and mandolin riffs, the band turns its latest, mostly acoustic CD into new-era bluegrass that both defies and pays homage to the genre. The Clumsy Lovers play the Beachland Tavern (15711 Waterloo Road) at 8 p.m. Tickets are $10; call 216-383-1124.
Wednesday, October 26
We don't know what we like most about Milemarker's latest album, Ominosity: Steve Albini's hands-off production or the awesome song titles. You can almost dance to the trio's angular guitar lines, which Albini wisely let run their course. Then again, "Killed on Public Transit" and "Pornographic Architecture" have a certain ring (literally -- the guitars occasionally clang like loud, distorted bells). Milemarker's at the Grog Shop (2785 Euclid Heights Boulevard in Cleveland Heights) at 9 tonight. Tickets are $8; call 216-241-5555.