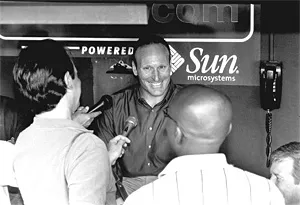 General manager Mark Shapiro: The brain that resurrected the Indians.
"Oh, if we could just turn back the clock a few hundred years, put Larry Dolan in stocks on Public Square, and let the citizenry pelt the Indians' owner with overripe eggs."
That was Plain Dealer columnist Bill Livingston's lament last year. Dolan could have expected as much. It had been this way since the Chardon lawyer bought the Tribe in 2001, when he swiftly replaced Art Modell as the city's principal villain.
Prior to his purchase, the Indians had reached an American League zenith with 455 straight sellouts and a celebrated "all-star at every position" lineup that led to the fourth-highest payroll in baseball. Then Dolan made his biggest mistake of all.
He purchased the team for a whopping $323 million. Three years earlier, Fox had paid $311 million for the Los Angeles Dodgers, buying into a market nearly 10 times Cleveland's size. Dolan had violated the first rule of capitalism: Buy low and sell high.
The Indians were performing well beyond what any small market could expect. It would be impossible to sustain the attendance or revenue streams built by former owner Dick Jacobs. After all, everyone in Cleveland already owned a Jim Thome jersey. The only way to go was down.
So when Dolan promoted Mark Shapiro to general manager that year, he did what anyone would do in his predicament: slash the budget. By the next year, Shapiro was kicking off a rebuilding process by trading ace Bartolo Colon to Montreal for riffraff first baseman Lee Stevens and three unknown prospects.
For a city that had finally grown accustomed to winning baseball, this was an act of treason.
Callers jammed talk radio, demanding Shapiro's firing. Who trades an ace for stiffs named Cliff Lee, Brandon Phillips, and Grady Sizemore? One online pundit best exemplified Tribe Nation's fury: "Mark Shapiro is right now my most hated person," he wrote. "I hate him more than Osama bin Laden and whoever invented country music, and that is saying something. I only have one thing to say about this attack on America . . . CRUCIFY! CRUCIFY! DIE SHAPIRO DIE! CRUCIFY!!!!!"
Even the normally unexcitable Plain Dealer editorial page seethed with indignation: "If Larry Dolan cannot afford to own the Indians, he should sell the team to someone who can. Dolan, . . . Shapiro, and the rest of the Indians baseball 'brain trust' underestimate the fan backlash that is about to descend upon this franchise."
Call it baptism by fire. Shapiro admits to being stung by the rage. "You're human, and you live in the community," he says. "But the key is to not tie your self-worth to the team's performance."
If it wasn't for this policy, Shapiro might have hung himself from the Jake lights years ago, for times would only get worse. The team allowed Thome to bolt after the 2002 season, deeming him too old for a long-term contract. By 2003, attendance had fallen to nearly half of what it was just two years before. To fans, box scores featuring names like Lawton and Gutierrez were testimony of a front-office collapse.
"I was livid," says WKNR radio host Munch Bishop. "They didn't try at all to keep Thome and Manny. What, I want to buy a Matt Lawton T-shirt or a Ricky Gutierrez T-shirt?"
Even Scene, despite publishing a 2003 article titled "Mark Shapiro Knows What He's Doing," jumped on the bashing bandwagon two years later, when the Indians let Omar Vizquel go. "Supposed phenom Jhonny Peralta," we wrote, "is hitting around .260 and playing short as if he's auditioning for a job as a matador." (By season's end, we were forced to a hasty backpedal after he slammed 24 homers.)
But as fans fumed and reporters spit fire, Shapiro was quietly developing a young team built to withstand baseball's lopsided economics.
Like Oregon pot-growers evading the DEA, the only way small-market teams can compete with Goliath is simply to outsmart him. Unfortunately, Be Way Smarter Than Everyone Else is not the surest business plan. Oakland used this strategy to reach the playoffs five times in this millennium, but have folded in the division series all but once. And they've since been overtaken by the more economically endowed/geographically confused Los Angeles Angels of Anaheim.
Minnesota also built to low-budget success, but will likely spend this off-season jettisoning stars Johan Santana and Torii Hunter — and making long-term reservations for the division basement. Florida's strategy — spend for one successful year, then hold a fire sale — would drive Cleveland fans to torch the stadium.
In short: There's no lasting precedent for what the Indians were trying to do. "I emulate the strategies of any number of GMs," says Shapiro, "but every team's situation is unique. We look for value."
That meant avoiding the roulette wheel that caused baseball's fiscal disparity in the first place. "Free agency is inefficient by nature," says Shapiro. "With real center-of-the-diamond players, we value them identically as the Yankees and Red Sox do, and we can't compete with their money."
Instead, Shapiro invested small in players others underestimated. Casey Blake was a minor-league free agent who had been released or waived five times. Travis Hafner was acquired from Texas for flunkies Einar Diaz and Ryan Drese. Latin scouting unearthed treasures like Peralta, Asdrubal Cabrera, and Fausto Carmona.
Blake offers the best summation of the Tribe's formula: "They weren't looking to spend a lot of money on third base, and I was cheap," he says, "so I had that going for me."
But even last fall, as the level of young, unpolished talent became evident, most Clevelanders were still forecasting harsh and threatening skies. "It's hard to imagine what the Tribe could do this winter to leapfrog Chicago, Minneapolis, and Detroit and reach the post-season in 2007," predicted Plain Dealer seer Paul Hoynes last October. "If they don't, Shapiro's rebuilding plan will be six years old. Short cuts aren't supposed to last that long."
Yet it did pay off. The Indians are now playing for the American League championship — and could be poised for a multi-year run.
Every marquee player — save for C.C. Sabathia — is signed through at least 2010. That chump Sizemore, who arrived in the incendiary Colon trade? He's signed through 2012.
Meanwhile, the rest of the AL Central is being battered by the laws of economics. The White Sox are old, while the Tigers and Twins near their own rebuilding phases. The Royals have been so mismanaged, they seem to be emulating Cleveland City Hall.
Winning, of course, has a way of tempering bitterness past. During the Yankees series, The Plain Dealer abandoned its overripe eggs for a gushing front-page piece on Dolan's son, Paul, the club's day-to-day boss. "Indians' boss shuns limelight as he builds a quality club," read the headline.
But you won't catch Tribe brass saying they told us so. While Shapiro never got too down in the face of searing criticism, he's smart enough to avoid getting high on his moment of adulation. "This is a market where you can be considered extremely smart one minute and an idiot the next," he says.
Indeed, he may soon be an idiot again next fall, when Sabathia's contract expires. Fans in Cleveland expend all their mercy on the perennially bad Browns. The Indians must work under more withering lights. "They're going to have to win a championship this year for fans to accept the loss of Sabathia," speculates Kenny Roda of WKNR. "Nothing less than a championship will do it."
And though Dolan and Shapiro are now enjoying their day in the sun, many loyalists remain reluctant to give them their due. "As I'm talking to you right now, with us in the playoffs, he's the greatest executive in the game," Munch Bishop says of Shapiro. "But you know, every general manager gets lucky."