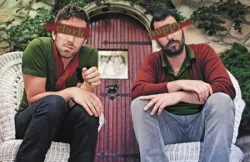 You can't swing a shorted-out mic cord without hitting a guitar/drum duo these days. The Gay Blades understand they're in a saturated market, so the pair (guitarist Clark Westfield and drummer Puppy Mills) distinguishes themselves by virtue of their twisted stage presentation and by writing songs that skirt the line between serious rock odes and serious rock ode parodies.
Stylistically, the duo is all over the musical map on their debut Ghosts, applying elements of glam, indie-pop, rootsy rock, doo wop and operatic rock to a basic template of emo pop, all of it with tongue firmly cheeked. Vocally, Westfield sounds like he's channeling David Bowie, Marc Bolan and Bryan Ferry, but with a sidelong glance toward veteran wiseasses like Fee Waybill and Russell Mael.
"I love the guys who croon every once in awhile," says Westfield via phone. "Nick Lowe is an amazing songwriter and he does that pretty well. Bowie is a huge influence on a lot of different fronts. Ziggy Stardust is one of my favorite records of all time; it's all over the place. That's what we like to do."
Of course, the Gay Blades backstory is every bit as entertaining as their album and live show. The tale begins eight years ago, when Westfield and Mills met while both were employed by a traveling sideshow.
"We were in college, and to make extra money in the summer, we worked this traveling flea market," says Westfield with a laugh. "It was all these gypsy people selling weird shit, autographed baseball cards and old stereo equipment. They'd throw together some cheap carny rides and occasionally they'd have a freak show going on."
That fall, Westfield and Mills started working on music in more conventional band formations until they realized their true calling was the duo format.
"This is our third project together," says Westfield. "We tried to do traditional lineups, but we just hate the shit out of everybody. We knew it was right because we've been met with very little resistance. We jump in the van whenever we want, nobody complains, we have a good time on the rock 'n' roll road and we make a lot of new friends."
Westfield has a logical explanation for the longevity of his musical partnership with Mills in the face of the ultimate defection of everyone they've employed.
"He's the only person on the face of the planet who could put up with me for 45 minutes onstage," says Westfield. "There's not many people who can do it. He can read my brain inside out and he knows what I'm going to do before I'm going to do it."
When Westfield addresses the question of his lyrical influences, he doesn't immediately cite the pillars of classic rock or contemporary musical wordsmiths (although he eventually tags Paul Simon and Beck). He points to Joseph Heller's iconic and iconoclastic '60s novel Catch-22.
"It's the most convoluted, upsetting book until you get to the end," notes Westfield.
Westfield and Mills encompass their broad stylistic range under the self-described umbrella of "trash pop." There is a sense that the definition of trash pop, like the Gay Blades, has a shifting center point.
"Our audience gets it," says Westfield. "The clincher is when people see it live, that's when they seem to understand the smirk behind it all. But you don't see a lot of records done like that anymore - not that we're the most refreshing band on the planet. We don't listen to one kind of music. Why should we be expected to write one kind of music?
music@clevescene.com