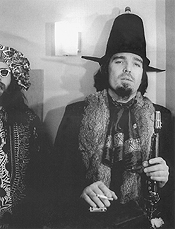 Captain Beefheart: The '60s love generation's mad genius.
With the release of the Captain Beefheart boxed set, Grow Fins: Rarities (1965-1982), rock's ultimate eccentric is finally honored as a figure who influenced artists as diverse as Tom Waits and Pere Ubu. The five CDs offer 75 outtakes, as well as CD-enhanced live-performance tracks. Ironically, this long overdue celebration of Beefheart's work, which is cause for exultation among fans, has reportedly drawn objections from the Captain himself.
"I'm not surprised," says Bill Harkleroad, known as guitarist Zoot Horn Rollo in Captain Beefheart's Magic Band from 1968 through 1974. "He probably doesn't want anything coming out because, if he can't participate in holding his image out there, he might be seen for what he is. But I'm just guessing. I haven't seen the guy in so many years, I wouldn't know."
Beefheart, whose real name is Don Van Vliet, was the hippie era's mad genius, an image firmly planted in music history through Frank Zappa's production and release of the Trout Mask Replica album in 1969. The album has for decades been rated by critics as one of rock's most innovative records. Trout Mask Replica appeared the same year Johnny Cash's Live at San Quentin, Iron Butterfly's In-A-Gadda-Da-Vida, and Bob Dylan's Nashville Skyline were bestselling albums.
Beefheart's sprawling double disc catapulted rock into the twilight zone for the first time, shocking even the counterculture by mixing the Delta funk of Howlin' Wolf and outside honking of John Coltrane with Beefheart's own schizo lyrics. During an era when acid was a synthetic form of venturing outside, Trout Mask Replica presented an angularity that, in Beefheart, seemed genetic. He told the press that he had written Trout Mask's music in a mere eight hours and spent the following six months teaching the bizarre tunes to his band.
"That's crap," says Harkleroad. "Beefheart revised things to the extent that much of it really isn't the truth at all. As a result, people have made this guy their hero. Don would tend to talk in poetry instead of responding with the facts. It was a form of creativity that didn't let up, and what was real and not real became kind of fuzzy."
Zappa's involvement in shaping Trout Mask's weirdness (described in Rock: The Rough Guide as having guitars that "often gave the impression that they weren't playing in the same room") has also been misrepresented, according to Harkleroad.
"Zappa had nothing to do with the music," he says. "He sat next to Dick Kunc, the guy who turned the knobs, and would occasionally laugh or say something while we were in there playing these funny songs. The album was on Bizarre, his record label, and he facilitated the recording, but that was about all. In fact, there were even a couple of condescending remarks by Frank: He was making an "anthropological recording' of us. As far as doing anything in the studio or having anything to offer musically regarding what we did, he was nonexistent. Absolutely. He just sat there."
Disc three of the boxed set offers 73 minutes of Trout Mask outtakes—the material most curious Beefheart fans will find themselves playing first when they unwrap the collection. They'll find that Beefheart is seldom present, and the emphasis on shaping guitar lines validates Harkleroad's stance that the band deserves more credit for contributing to Beefheart's unparalleled style.
"Trout Mask is Don's album, his material, his concept, sure," he says. "But nobody knows about the sheer, Mt. Everest-climbing effort that we band members put into re-creating his parts for each instrument, since he had no idea what was or wasn't possible on an instrument."
According to Harkleroad's book, Lunar Notes: Zoot Horn Rollo's Captain Beefheart Experience, Beefheart would expect a seven-note piano chord to be reproduced on a six-string guitar.
"Don doesn't know one note from another," says Harkleroad, "so we just kind of pounded the shit out. I'm not saying he wasn't a major influence, he just wanted everyone to think he invented planet Earth. He liked to lay claim to a lot of things that just weren't his. He was exceptionally talented, but at the same time, we could have played the tunes backwards and he wouldn't have known it."
The band members found Beefheart to be as intense and aggressive as his music. "Many times, the next day he'd say to play it another way, strictly based on his mood," Harkleroad recalls. "He didn't have a specific intention apart from what his feelings were at the time, which were often very negative. At every gig we played, someone in the band was chosen to be the culprit, the horrible person. You played badly, and that's why he couldn't sing his lyrics. And the truth was, he never knew his lyrics."
Harkleroad claims that Beefheart was typically asleep in the next room. "He was there maybe 5 percent of the rehearsal time. He didn't practice the tunes with us, apart from maybe once or twice on a couple of the songs. And when he recorded the vocals, he didn't even have them going into his headphones. He just listened to leakage, which is why there's no sync to it. That explains the freeform feeling, which results in a very cool art-form thing, like Jackson Pollock throwing paint on a canvas.
"But apart from those created-on-the-spot tunes — like "Sugar 'N Spikes,' "Orange Claw Hammer,' "The Blimp' — which just kind of happened with a tape deck going in the room, that leaves 20, 21 tunes that, though we could never claim we had written, the effort of stringing them together, reorganizing the parts, making them playable, rehearsing, that was us. When we would ask him, "How does this go with this?' Don's comment would be, "You know,' implying that you should know because I told you, which really meant, "I don't know, and I can't admit it.'
"We were silly guys who would work on anything. "Play a barbed-wire fence on guitar,' he'd say, and I'd work for six days on that, twelve hours a day. He really had whipped us into being under his control, so that we would work on these things. There was a lot of brainwashing going on. There were brutal, thirty-, forty-hour talks on how to hold a cigarette. Had we been grown-ups with enough self-esteem, yeah, we would have told him to fuck off, but remember, there was a ten-year age difference between us and him. He was our hero. I was nineteen, in my favorite band, not going to Vietnam, and figuring maybe I'll get laid and maybe make a bunch of money."
While Harkleroad was frequently singled out as "the culprit," Beefheart's unspoken appreciation resulted in choosing him to be the only witness present at his marriage. Perhaps understandably, the guitarist consistently vacillates between nasty memories and respect for Beefheart's influence.
"It seems that, within this large body, there was a smaller person—I don't know, maybe that's why he shouted so loud. Kind of like, jeez, look at the responsibility I have. He constantly had to hold up to that, which turned out to be a really painful process for him."
Harkleroad vaguely attributes Beefheart's aggressiveness to the latter's attempts to cope with the early death of his father, suggesting that the Captain felt the paternal responsibility to take on more than he could actually handle.
"He wasn't able to deal with the pressure that he had set up for himself," Harkleroad says. "But he would never cut himself any slack. He'd always say, "Yeah, I invented that,' when a lot of the work was done by us. I'm not saying that he wasn't the creative vision and spark for all of that, but it came from a compulsive weirdness. He was definitely outside, but he also faked it until he became it, became this image to live up to. When that turned out right, it became creativity for us."
As for Harkleroad's take on the Grow Fins box: "I just got the sampler of the CD in the mail, and it took me awhile to want to listen to it," he admits. "But I heard some great moments that really make Don sound good. There was stuff they could have put on there that could have shown how lost in space he was. On the couple of harmonica pieces in the set, God, he rips. He had chops on the harp that were just killer."
Discs one and two offer previously unheard demos as well as early versions of cuts that would later appear on Safe as Milk and Strictly Personal. Disc three, Trout Mask House Sessions, primarily centers on Harkleroad and Jeff Cotton figuring out the complex guitar licks that shaped the album. Disc four is split between overheard conversations (Beefheart attempts to convince a female fan that her favorite artist, Herb Alpert, "overdubs his trumpet three times" because he can't play, the flirtatious encounter accompanied by someone in the background on a typewriter) and enhanced performance footage, which shows the band in action from 1968 to 1973.
Disc five offers 23 live versions of Beefheart cuts, taken from concerts and radio specials from 1969 to 1982, when Beefheart ended his musical career. Included alongside outtakes from Lick My Decals Off Baby, The Spotlight Kid, Doc at the Radar Station, and Ice Cream for Crow are loads of Beefheart cuts never heard before. A highlight of the disc is Beefheart showing off his amazing seven-and-a-half-octave range on a radio phone-in solo of "Black Snake Moan."
Beefheart abandoned the music scene following 1982's Ice Cream for Crow, focusing on a successful painting career. He's subsequently been as aloof as J.D. Salinger, holed up in Trinidad, California—even refusing to answer the door when visited by former Trout Mask bandmember Art Tripp. There are substantiated claims that he is wasting away from a chronic illness.
"Listening to the cuts, I found myself becoming a Beefheart fan again," says Harkleroad. "I'm hearing this 25-year-old music, thinking, "Did I play this?' It was very innovative, even for that colorful time period."