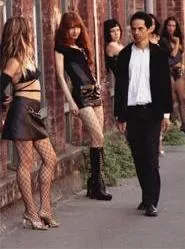 Twelve steps with Caveh Zahedi.
I Am a Sex Addict
(IFC)
Caveh Zahedi has made a movie of our times -- a strange mix of self-absorption, shamelessness in the pursuit of fame, and sex. Most shocking of all is that it works. Part fiction and documentary, confessional and comedy, the film traces the history of Zahedi's addiction to sex with prostitutes using reenactments, home-movie footage, and plenty of asides to the camera. It would all be terribly annoying and pretentious without Zahedi's cheerful evisceration of himself and his half-baked realizations. He also scores laughs with jabs at the film's microbudget (he explains that he can't afford to shoot in Paris, then puts a guy wearing a beret in the next shot). And underneath it all is a serious portrait of the artist as an addict. Sure, some of the jokes fall flat, but
Sex Addict
is far better than it needs to be, and surely better than the films it will inspire.
-- Jordan Harper
R.E.M.: When the Light Is Mine . . . The Best of the I.R.S. Years 1982-1987 (Capitol)
Amazing how little evolution there is in the look of the 18 videos collected here; from "Wolves, Lower" to "Finest Worksong," it all looks kinda the same -- grubby, homemade, thoughtful, careless. It matches the music, of course; these are R.E.M.'s finest moments, before it bought into the gloss and broke into the main and lost its drummer, and became too big for the clubs and too small for the stadiums. There are videos here where the band isn't even visible; ah, to remember when being heard was enough, when the song was the thing and the video was the extra with which the college-crowd crowd couldn't be bothered -- like the band itself, which cared enough to make art, but not enough to make it too intrusive. -- Robert Wilonsky
The Death of Mr. Lazarescu (Tartan)
You know how on E.R. or Grey's Anatomy it seems as though the doctors would sacrifice their lives to save one patient? Yeah, well, here, in Cristi Puiu's Romanian Oscar nominee, not so much. Dante Lazarescu (Ion Fiscuteanu) has spent a week with the same unbearable headache and a day's worth of vomiting. He calls an ambulance, which takes forever to arrive and even longer to drop him at the hospital (you're an hour into the film before he even sees a doctor), till finally he's left alone in a hallway to expire without being properly cared for or cared about. In the course of his journey toward the grim inevitable, he's treated instead to hospital workers dishing dirt and docs searching for phone chargers; his death means nothing to anyone, save the audience trapped with him for two-plus hours during this masterpiece, with its share of dark laughs that choke. -- Wilonsky
Taps: 25th Anniversary (Fox)
Maybe Fox should have gone for the 20th anniversary rerelease, back when the sticker on the box touting a young Tom Cruise had a little more muscle behind it. Today, the sticker probably should pump up the young Sean Penn, or even Timothy Hutton -- anybody but the whack-a-loon Cruise has become. Or perhaps just that Taps is a damn good movie. Sort of a Lord of the Flies in reverse, it's about military cadets who so crave discipline and order that they refuse to leave their academy when it closes. Of the three young stars, the seething Penn comes out strongest -- which, knowing what we know now, isn't surprising. Taps was released between America's anti-war '70s and its pro-military Rambo years. That ambivalence, together with the cast, makes it fascinating even today. -- Harper