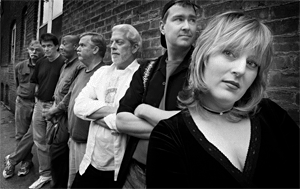 BFD Blues Band
singer Monica Robins finds it amusing and sorta flattering that fans recognize her from her television gig — even if they do get it wrong sometimes. "They'll say, 'You look like that reporter on TV. Don't you work at Channel 5?'"
Um, no. Robins is the health reporter for WKYC-TV 3, and she's moonlighted in BFD since 1998, joined by videographers and editors from WKYC and WJW-TV 8. "They're all anal," she laughs. "The wires have to be perfect. The notes have to be perfect. I'll say, You think Keith Richards always hits the right notes? They're worse than a bunch of old ladies."
The septet counts bikers among its devoted followers, who come to hear covers of tunes by the likes of the Allman Brothers and Janis Joplin. It's all about having a good time — although Robins welcomes the opportunity to sing for a major label. "I'd jump at the chance," she says. "But I sing for therapy. I can't quit my day job."
Sat., June 3, 9:30 p.m.-2:30 a.m.