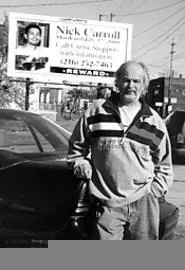 Michael Carroll hopes the billboards will trigger someone's memory -- or conscience.
Six years ago, when Matthew Carroll's friends ran to his father's doorstep shouting that Matthew had been shot, Michael Carroll thought they were joking. It wasn't until he followed them down the street and saw police everywhere that he realized the truth.
While playing with a gun at a neighbor's house, 15-year-old Matthew had shot himself. By the time his father arrived at the scene, Matthew was unconscious. He died that night.
But when Cleveland Police showed up on Michael's doorstep last July, asking about the tattoos on his 22-year-old son Nicholas, he says, he knew instantly. He had lost another son to the streets.
The first death was quickly resolved, at least officially, when police ruled Matthew Carroll's shooting an accident. The second has festered. In the 10 months since Nicholas Carroll was found stabbed to death in a West Third Street parking lot, no serious suspects have been identified, says Cleveland Police Lieutenant Sharon McKay.
The unsolved murder weighs on Michael Carroll. A tool-and-die maker with wispy gray hair and a scruffy goatee, Michael is usually nervy and plainspoken, but his voice steels when he talks about his murdered son. "This ain't going away until I find out who did it," he says. "Until the day I die, that's my mission."
If the indifference accorded Nicholas's death is any indicator, Michael will go his quest alone. A few TV stations breathlessly reported on the body's discovery, but when it turned out that Nicholas was hardly an innocent victim, few reporters returned for a follow-up.
Nicholas, his father acknowledges, was a crack dealer. His 17-year-old sister Kim understands why few people outside the family are calling for his murderer's arrest: "To them, he's just another drug dealer, dead."
---
Until June 1996, the Carrolls were a family like any other in their working-class neighborhood at West 88th and Denison Avenue. Michael and wife Deborah were the parents of three children: Nicholas, Matthew, and Kim.
Then, on June 27, Matthew's friends delivered the awful news. Cleveland Police ruled Matthew's death an accident, saying he bought a stolen .22-caliber pistol on the street only a few days before and mistakenly fired at his own head.
His family couldn't believe it and continue to question the death today. "There was no powder on his hands," Michael insists. "No way could he have pulled the trigger."
Officials disagree. "Everything pointed to a self-inflicted gunshot wound," says Cuyahoga County Coroner Elizabeth Balraj. "There was nothing to say he could not have done it himself." Case closed.
Michael blamed Matthew's death partly on the growing desperation of the Denison neighborhood and moved the family a few miles west to a duplex on leafy West 129th Street. "We hoped Kim and Nick could grow up away from that neighborhood," he says.
But a year later, Michael and Deborah divorced and retreated to separate pain. "It's hard when I see my nephews and they're still growing," Deborah says, her eyes filled with tears. "I still see Matt as 14. When I see a boy with freckles and a crew cut, it breaks my heart."
Nicholas had already quit school and received his first drug conviction before his brother's death. As a boy, he had been a standout athlete -- a star of the West Denison Little League, always chosen first for any sport at Harry E. Davis Middle School. Dark-eyed, slim, and serious, he was a whiz at electronics.
But after a year playing football for West Tech and earning decent grades, Nicholas dropped out of school and racked up arrests instead of rushing yards -- 11 in five years: one for stealing a car, the others for drugs. Despite the family's move to West 129th, his problems would only escalate. Says Kim: "He started to hate more."
A friend would later report these ominous words to his family: "He wished it had been him instead of Matt," she says.
One month after his brother's funeral, Nicholas was arrested for drug possession; six months later, for aggravated drug trafficking; one month after that, for stealing a Dodge Neon and selling crack to an undercover cop.
The arrests all came in the old neighborhood off Denison. Nicholas used his father's new house for a mailing address, but crashed elsewhere. "He'd come up and chill for a few hours," Kim says, but that was it.
He was difficult enough that his father and sister were often relieved when he left. He wasn't violent, but he was often cutting. When Michael offered to rent a limo to take Nicholas and his friends to the Flats for his 21st birthday, Nicholas brushed him off. "He didn't care about nothing no more," Michael says. He loved money, Kim says, and that was about it.
Nicholas was never busted with more than a gram or two of crack, but he seemed to be begging to get caught. He was always rumbling through the streets, stereo on high and a rock or two in plain sight. The police couldn't help but arrest him, over and over again. After Nicholas spent a short stint in prison, a judge authorized his release, but he blew parole in three months and was sent back. After skipping a hearing for another charge, he went on the lam, but managed to get arrested again in five months. This time, he was sentenced to 10 months in the Lorain Correctional Institute.
Nicholas was still in prison when his son Dominick was born in April 2001. The boy's mother was living in Maryland when Nicholas was released in June, but Kim noticed an immediate difference in her brother. He was more appreciative of family, she says. "We couldn't believe the change. He was a complete opposite."
His family thought the baby would bring about a new Nicholas. "It could have changed him," his mother, Deborah, says. "He saw the pictures, and he was getting excited. Nicholas needed Dominick in his life."
It wasn't to be. Friends last saw Nicholas around 2:30 a.m. July 27 at the Century Bar and Grill, a ramshackle house turned lounge at Denison and West 73rd, his father says. At 11 a.m. that morning, a downtown parking lot manager called police to report a body lying face-down in the backseat of a 1993 Oldsmobile Cutlass. The coroner would later rule that Nicholas had been stabbed 60 times in the head, neck, chest, right shoulder, and hands.
That evening, Michael was summoned by a frantic neighbor who saw a story on the five o'clock news about an unnamed stabbing victim. "That looks like Nick's car," she said. Michael desperately called his son's friends, asking if anyone had seen him. No one had. At 5:30, the police arrived and confirmed that it was Nicholas's car. He was dead.
In some ways, Michael blames his son. "I didn't like what he was about or what he did," he admits. He knows that Nicholas's lifestyle must have led to his death. But he also blames the system. "He'd get busted all the time, but they'd give him three-month stints, six-month stints. Give him two years and let him really think about it!"
He pauses, then confesses, "I dealt with the first one. I asked myself, 'Why me?' but I didn't curse God. The second time, I did."
After 10 months of waiting, Michael's desire to solve his son's murder has only grown. The Carrolls have papered their old neighborhood with fliers, begging for clues. Michael paid to erect two billboards near his son's old haunts. He even offered to hire a psychic, but the police brushed him off, he says. So did America's Most Wanted. ("Because there's no one wanted," Kim explains.) He's now trying for Unsolved Mysteries.
Michael has taken to driving Nicholas's Oldsmobile around his old neighborhood off Denison, hoping to draw out someone who knows something. The backseat was so bloody, it had to be removed, and the Olds still smells vaguely damp, but it's the only clue he has. Michael regularly pesters Nicholas's friends for other tips, which he passes along to police. He can only hope they're following up. "They don't call me," he says. "I call them."
McKay says police have checked every clue. "Regardless of what Nicholas did or didn't do, it doesn't mean he should be the victim of a homicide," she says. "Sometimes it takes weeks to solve, sometimes months, sometimes, unfortunately, never."
Michael knows his work has yielded few results to date, but he doesn't know what else to do. He isn't a man given to introspection. "I'm doing what I got to do," he says.
Dominick's mother has since returned to Cleveland, so on weekends Michael watches his grandson. The one-year-old's toys are all over the West 129th Street apartment, and his baby pictures have joined Nicholas on the walls, the joyous baby beaming across the room at the solemn Little League star who would die too young. Father and son will never come any closer to meeting.