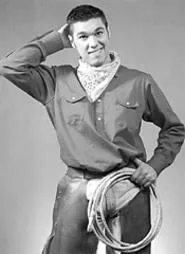 Steve Higginbotham, The Will Rogers Follies' lovable leading man.
Longtime area theatergoers will remember when Berea Summer Theatre was a cherished West Side institution. This temple to frivolity was where
Godspell
first "prepared ye the way of the Lord" and battalions of Aunt Ellers, Dolly Levis, and Harold Hills danced and sang. And this is where patrons could always count on the preshow appearance of Artistic Director Bill Allman, who knew the worth of a good gimmick. In his neon glad rags, cavorting like Liberace, he would urge bemused spectators to spread the joy and tell their friends to "come on down." As corny as his pitch may sound in retrospect, it must have worked, because after Allman retired in 1997, the theater sputtered and eventually closed at the end of the 2000 season.
Out of the abyss came an unexpected hero. Back in the '70s, John Nolan was just another doll-faced Berea chorus boy, twirling around Auntie Mame and soft-shoeing with Jesus. In subsequent years, he packed up his tap shoes long enough to become an attorney and director of the AIDS Taskforce of Greater Cleveland. Now in his 40s, Nolan has returned to his boyhood greasepaint infatuation, picked up Allman's megaphone, and is using his considerable energies to resurrect this once-vital institution.
With the invaluable assistance of Dylan Fujimura, Cleveland's most accomplished technical director and the former heart and soul of the Great Lakes Theater Festival, Nolan has requisitioned a handful of the city's up-and-coming directors and designers, and planned a season shrewdly balanced between novelty and surefire mass appeal. These selections include that evergreen piece of Americana The Man Who Came to Dinner, a whodunit, and an Irving Berlin revue.
Ideally commencing the season is The Will Rogers Follies, a rarely performed 1991 musical, as heaven-sent for Cleveland theater as a Popsicle in the desert. This ingenious fantasia has as its premise the world-famous showman Florenz Ziegfeld doubling as an unseen but heard deity, summoning philosopher, rope-twirler, movie star, and legend Will Rogers back from the dead in order to relive his life reconfigured, as one of Ziegfeld's own Follies. The real Rogers could neither sing nor dance, and led an absurdly wholesome life for a showbiz figure. Yet the delightful conceit of the musical is to turn his exemplary life and tragic death in an airplane accident into a series of show-business routines. His sisters become burlesque cuties and his father a deadpan comic. Surrounded by showgirl angels, Rogers is ordered by Ziegfeld to court his future wife on the moon, and their wedding is turned into a production number that ends the first act. In the second act, their burgeoning family emerges as tiny-tot hoofers, and Rogers's famous philosophy of benevolence and tolerance is encapsulated in an exquisite anthem, "Never Met a Man I Didn't Like." The work's ultimate triumph is that a man who never intoned a note in his life has his whole life expressed in this achingly beautiful song. Reimagining a life in the guise of show business, this musical beguilingly demonstrates how all the world can indeed become a stage.
With Peter Stone's wisp of a book, the work is kept afloat by the buoyancy of Cy Coleman's music and Betty Comden and Adolph Green's witty lyrical pastiches of old song styles. It is a musical that needs infinite style and charisma. Lora Workman's mercurial direction and choreography infuse high school girls with appropriate '20s showgirl glamour. The production is punctuated with Tom Serdar's bawdy braggadocio as Will Rogers's pa, Clem. Kimberly Lauren Koljat's mellifluous tenderness as Rogers's wife imbues the evening with a gentle, romantic longing, and Amanda Folino's slinky sultriness as a leggy Ziegfeld MC releases the show's pizzazz. Above all, leading man Steve Higginbotham projects the perfect aw-shucks charisma, which explains why the whole world once fell in love with Will Rogers.
---
If you want to spend time with Cleveland's most ardent theatergoers, you must head north across the border to the Shaw Festival in Niagara-on-the-Lake, Ontario. The festival's mandate is to do plays either written by or set in the lifetime of George Bernard Shaw; it fulfills this mission with a consistent polish and flair unequaled in America. Each production offers its unique bonus: Caesar and Cleopatra has a cerebral glamour and sparkle rarely seen since the heyday of Olivier. Merrily We Roll Along has always been blessed with Sondheim's most vital score, if cursed with an impossibly cerebral book. Here, it's saved by the company's warmth and infinite verisimilitude. The Old Ladies is chilling and dark in the manner of Poe, but with the exquisite delicacy of a Renoir landscape. The Return of the Prodigal, a rediscovered comedy of manners by the forgotten St. John Hankin, combines the elaborate wordplay and naughtiness of Oscar Wilde with the stirring debate of Shaw. Detective Story reflects both past and present: the psychological neuroticism of vintage film noir and the moral density of contemporary police shows like NYPD Blue.
Six additional plays will be added this season, which runs through November 24. It shouldn't be missed by anyone who loves theater.