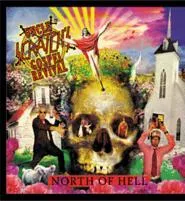 Lost in the hoopla surrounding the incendiary live shows and side-splitting preacher shtick of Uncle Scratch's Gospel Revival is the music. The duo's stupendous sophomore effort,
North of Hell
, is just as hilarious as its 2003 debut,
Kickin' the Devil in the Balls
, but musically superior. Brother Ant and Brother Ed reaffirm their tongue-in-cheek mission statement to destroy Satan, even if it means resorting to coarse language. Armed with just a guitar and a homemade drum kit, Uncle Scratch plays lacerating basement blues with punk-like ferocity on barnburners like "Run Devil Run" and "Gates of Hell."
The results are equally impressive when the Johnny Cash-loving duo branches out into related genres. Whether using a southern-rock ballad to address the personal sacrifices necessary to keep it holy ("I Can't Bang You on a Sunday") or celebrating the holy Trinity through hillbilly gospel ("Johnny, Jesus, and Me"), the rugged disciples deliver. It won't be long before Uncle Scratch finishes off Beelzebub and locks more celebrated bassless blues combos in its groin-kicking cross hairs.