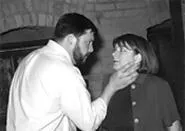 The Commissar's in town: John Kolibab and Sheila E. Maloney.
Greg Cesear, artistic director of Cesear's Forum, may not be the noblest Roman of them all, but he certainly lays claim to being our most quixotic theatrical entrepreneur.
In the tradition of the lost boys of Neverland, he labors underground. One flight beneath the restored theatrical splendors of Playhouse Square, he has set up operation in a former cabaret that shares the name of the blighted Kennedy dynasty. Cramped, forlorn, and frozen in time, it is strewn with theatrical posters proclaiming the once-upon-a-time electricity of Pearl Bailey's Dolly Levi, Angela Lansbury's Madame Rose, and the once implacable "What I Did for Love" determination of A Chorus Line's spangled dancers. It's an ideal showbiz Forest Lawn to view this director/producer's astounding theatrical aberrations. Cesear, who has a propensity for choosing vastly ambitious undertakings that are way beyond his means, is at it again with the 1949 passion play The Queen and the Rebels.
If we judge solely by intentions, Cesear rates a crown of laurels, for he is as foolhardily brave as any conquering hero in his championing of esoteric theatrical classics that bedevil first-year theater majors. While other theaters strive for the meretricious glory of recent hits of the Mamet and Lloyd Webber ilk, he fights horrendous odds for the perpetuation of egghead poster boys such as Jean Genet, August Strindberg, and Luigi Pirandello. With the budget of a Kool-Aid stand and a tight rationing of inspiration, he gives these playwrights little chance of theatrical success.
Our undaunted hero has now taken up the challenge of Ugo Betti (1892-1953). For those who have tossed away their Intro to Italian Theater notes along with their lettered sweaters, the Longman Companion to 20th-Century Literature informs us that Betti was born in Camerino, Italy, studied law, and eventually became a high court judge. As a writer, he achieved an international reputation as Italy's second-most renowned 20th-century playwright, next to Pirandello. His plays are described as usually tragic in character, with an often violent, frightening, or bizarre tone.
Even with such illustrious divas as Irene Worth and Uta Hagen giving his works their considerable best, Betti has been able to elicit little more than a critical shrug or moan in English-speaking countries. Like the yodelings of Slim Whitman, something always seems to collapse in translation.
What's on display at Kennedy's is from every angle a complete debacle. Since it is easier for the dead to withstand the blows of criticism, we'll start with the play itself.
According to the script, the action takes place in an undesignated European country in the midst of a revolution. Yet Michael A. Larochelle's set resembles less a mountain village's town hall than a haphazard broom closet in hell. The rebels have stopped a bus of travelers, and the passengers -- including "the queen," who's actually the widow of the former dictator -- have been forced to get off. If the aim is to create tension, it falls flat here in a production so inadequately staged and populated.
One of the queen's fellow passengers is a prostitute fleeing police. This central situation, of a trollop who takes pity on a fugitive aristocrat and offers herself to the revolutionaries as a substitute martyr, has the potential of a taut psychological thriller. But the playwright, an earnest disciple of Pirandello's leaden symbolism, never misses an opportunity to philosophize and refuses to let a moment pass without some evidence of high seriousness. If someone observes that a corpse "stinks," someone else must punctuate the remark's seriousness with: "It's the smell of history."
The playwright pounds home his points with a Marxist mallet. The Commissar, who persecutes these passengers, must define himself as a "fury who thinks of human beings as grubs wiggling in cheese." The ennobled whore faces her death like a propagandizing Joan of Arc in an overflorid opera: "How lovely and serene it is over the mountains . . . we must try to live regally." It occurs to us that, to keep this brand of hooey from decomposition, it needs the exquisite cinematography of a Josef Von Sternberg and the cheekbones of a Dietrich.
The actors in this production have all shown great talent in other roles. Here they seem to be trapped underwater, floundering to take a breath. They are desperately in need of strong guidance, a director who can give them more than antique movie conventions. The talented but grievously miscast Sheila E. Maloney, as the redeemed harlot, is encouraged to pursue a relentless attitudinizing with cigarettes and lipstick that reek of a Bette Davis impersonator. Adina R. Bloom, who specializes in Eleanor Roosevelt nobility, is reduced here to stale Italian peasant routines. John Kolibab, noted for his portrayals of invigorating wiseguys, fizzles and sputters like a damp firecracker as the villainous Commissar. The usually arresting Michael Regnier, as a dying general, performs the worst Gabby Hayes impersonation of the new millennium. Generic costuming and hollow direction render the characters flatter and phonier than the Sunday comics.
As noted British critic Kenneth Tynan phrased it about a 1955 production of the same play: "Inevitably, the strong pull of life towards death is an attribute of many fine plays; but in a puppet's inevitable march towards a cardboard scaffold I find it hard to take much interest."