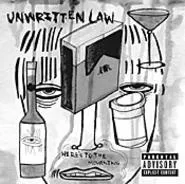 Before Unwritten Law became the inoffensive rockers seen on television, shilling for such things as MTV's real-life documentary My Super Sweet 16, the SoCal group cranked out tunes sanitized for skatepunk poseurs stuck in the suburbs and wearing black nail polish in protest. One would be hard-pressed to find any residue from those days on Here's to the Mourning, the follow-up to its 2002 mainstream breakthrough, Elva -- except for the part about those early tunes being so generic that they became completely ineffectual.
In fact, Mourning flashes back to the nightmares of 1990s rock radio: Stone Temple Pilots' hyper-macho sexuality (sample lyric: "So, dance, take a chance with me/ Take off your pants with me"), nü-metal's dinosaur-stomp riffs and multitracked screaming ("Get Up"), third-rate 311 imitations ("The Way"), and Linda Perry (the 4 Non Blondes frontwoman-turned-songwriter, who co-wrote "Save Me").
Even Unwritten Law's efforts at recapturing its punk roots -- slick, hot-rodding numbers like "No Control" and "F.I.G.H.T." -- sound freshly shoplifted from the racks at Hot Topic. No wonder the spoiled teens in the aforementioned MTV special seemed so uninterested in the band: With albums as superfluous as Mourning, there's nothing here to bat an eye at.