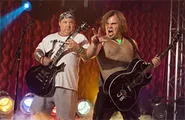 Tenacious D: Two men, four chins. Give or take.
Tenacious D in the Pick of Destiny
(New Line)
You probably already know where you stand on Tenacious D, the pudgy hard rock comedy duo that made Jack Black famous. And if you haven't heard of them, this isn't the place to start: Their DVD of short films and music videos is much better. But fans of Black and Kyle Gass -- especially those with their expectations chemically lowered -- should be happy to give the film a shot. There's some glorious set pieces, like a musical prologue featuring Meat Loaf and Dio, and a mushroom-fueled hallucination where Black is adopted by Bigfoot (this is a midnight movie waiting to happen). But the best joke is that their music is almost as good as their swagger; use the "skip to a song" function and watch "Master Exploder," during which audience members spontaneously orgasm or have their heads blown off. You gotta admit: The D brings it.
-- Jordan Harper
A Good Year (Fox)
Okay, let's get this straight: A millionaire who looks like Russell Crowe must either move to his gorgeous French vineyard and bang a luscious café owner or return to his lavish and decadent London lifestyle? And we're supposed to give a shit either way? A Good Year is consumer porn of a very masochistic bent, posing as a celebration of the "simplicity" of European aristocracy. Not to sound like a pinko, but capitalist fantasies are fine when they're not quite so full of shit. Of course, everything looks great, as filmed by Ridley Scott, and Crowe is perfectly charming. But they know there's no drama here, which is why they squeeze in some ill-fitting pratfalls and jokes. It all feels like watching vacation videos from some guy you don't know. -- Harper
Alexander Revisited: The Final Cut (Warner Bros.)
Alexander, released and just as quickly dismissed in 2004, remains three years later the film that haunts its maker, Oliver Stone. For the second time, he's tinkered with his discombobulated epic so we could make better sense of it, adding some 30 minutes of footage while reshuffling the rest of the deck. The result? Well, Anthony Hopkins is explaining the action to us like some street-corner madman; only he's hidden behind a new beginning -- the end, more or less, with Alexander (Colin Farrell) on his deathbed, before we leap back and forth through time till we're utterly lost. The new version, loaded with more sex and violence (bingo!), feels more desperate than its predecessors. All it's done is make a long movie longer -- though, if you need much more naked Rosario Dawson, this is your DVD. -- Robert Wilonsky
Don't Look Back: 65 Tour Deluxe Edition(Docurama)
D.A. Pennebaker's Don't Look Back, which chronicled Bob Dylan on his English tour in 1965, remains the rock doc to which all others aspire. It's unfiltered and unfettered Bob -- the genius, the bastard, the stand-up comic, the sumbitch taking his gee-tar and harmonica abroad while fiddling with the press and diddlin' Joan Baez. This astounding collection, replete with original 1968 transcript-cum-photo-album and "Subterranean Homesick Blues" flipbook, adds to its unconquerable legacy with a second film culled from outtakes as important and insightful as anything in the original. "See the world the way Bob Dylan sees it," he tells a journalist to whom he loans his shades. Turns out the only film that could live up to Don't Look Back was the film made from its spare parts. -- Wilonsky