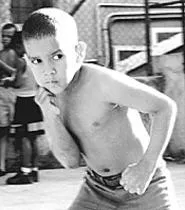 Now showing: One of Boxers and Ballerinas' young fighters.
Following in the recent footsteps of such high-profile movie fests as Sundance and Cannes, the
29th Cleveland International Film Festival
(which runs Thursday through March 20) features a slate packed with documentaries. They include films about a guerrilla artist, a sex-change operation, and Iranians looking for love.
One of the best is Boxers and Ballerinas, a Koyaanisqatsi-esque trip through sound and vision about Cuban athletes-cum-exiles. It was scored by native Clevelander Craig Wedren, who once fronted alt-rockers Shudder to Think and makes his living these days composing music for School of Rock, The Secret Lives of Dentists, and other independent films.
"To be perfectly honest, it was an opportunity to go to Cuba," he says. "It was an unbelievable experience. I got to make music down there. That was enough for me. But I love the movie. It's so dense. There's so much going on all the time. It goes from being hypnotic and beautiful to being almost numbing. It asks questions, but it doesn't take sides."
Boxers and Ballerinas is spare with words. The images -- pugilists hitting bags, dancers en pointe -- speak for themselves. The score, simultaneously dizzying and soothing, was performed entirely by Wedren. He met the movie's directors, Mike Cahill and Brit Marling, through mutual friends. "Mike is a prodigious editor," he explains. "He would just load up all this video footage and would constantly be editing away on his laptop. It was this completely liberating process. They roamed around Cuba with handheld cameras and hacked away on it.
"And they were still making changes when I was doing the mix. They didn't have a final cut for me to work with. So I just kept rewriting music. The challenge was to score literally every frame of the movie, more or less. I treated it like a silent movie. I scored the images and the characters."
But writing melodies for a movie about real-life kids looking to make a break from their country's dead ends is a lot different than putting together music to accompany, say, a larger-than-life Jack Black dry-humping a desk. "I tend to do indie movies where there's not a ton of music," says Wedren. "In fact, in independent film, silence is golden. This movie is cut like a montage."
Other films at the festival include a profile of old-school Hollywood mogul -- and former Clevelander -- Lew Wasserman (The Last Mogul); a mockumentary about film-school students (Filmic Achievement) directed by Chagrin Falls resident Kevin Kerwin; Lonesome Jim, directed by Steve Buscemi; The Ballad of Jack and Rose, starring Daniel Day-Lewis and directed by his wife, Rebecca Miller; and a retrospective of Todd Solondz's films, including screenings of Welcome to the Dollhouse, Happiness, and his latest, Palindromes.