Cleveland provides fertile ground for artists who have grown up or gone to school here and later decided to make the city their home and a place for creating their artistic identities.
Just to choose two examples, composer and new music advocate Timothy Beyer, and Baroque oboist Debra Nagy have chosen to settle here — rather than move to the coasts — and each has established an ensemble that both represent their individual artistic missions and contribute to the cultural life of Cleveland.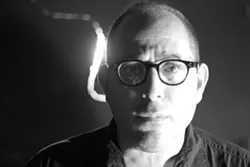 "Music was always part of me," native Clevelander and No Exit artistic director Timothy Beyer said, "although when I was a kid I never thought I would be a composer in the classical music sense. I was sure I would compose, but I thought it would be in the rock or jazz genres."
Beyer, who spent most of his pre-adult life in the Heights, said that like a lot of kids, he began studying music at a young age, and played in a number of bands with friends.
"In the 1990s I formed a Jamaican Jazz band called Pressure Drop," Beyer recalled. "We toured, recorded a record, and were featured on a few compilation CDs. It was a great way to spend my 20s, although it wasn't something I saw myself doing forever."
When Beyer began to find the Pressure Drop's music to be too limiting for his expanding musical ideas, he started to think seriously about pursuing a career in classical music, a genre he had enjoyed all of his life. "Because the band was touring and playing a lot of gigs, I enrolled at Lakeland Community College. That was the easiest way to fit in my studies, and it seemed like a good way to get an education."
After Lakeland, Beyer decided to totally immerse himself in his classical music studies. He enrolled at Cleveland State University and studied composition with Andrew Rindfleisch and Greg D'Alessio. "Both of them were wonderful teachers and the school provided me with the best set of circumstances I could ask for," Beyer said. "Some college students are trying to find themselves, but because I was older, I had a very clear idea of what I wanted to do. I just needed to find the tools and the means to get there, and Andy and Greg were big forces in my life."
Beyer earned bachelor's and master's degrees in composition while beginning to create new music groups. "All composition students look to their peers to perform their music. During my last year as a student, I officially formed No Exit with pianist and composer Nick Underhill, violinist Cara Tweed, violist Tom Bowling, and cellist Nicholas Diodore. After I graduated in 2009, we became a professional ensemble. Composer James Praznik, and our art director, Matt Shaffer, have also been involved with the group since the beginning."
Beyer noted that forming an ensemble was essential to the development of his career. "Musicians, and especially composers, need to be entrepreneurial," he said. "It becomes clear very quickly that if you want any chance of having a life in this business, you have to create your own opportunities. And I find that I'm much happier doing it this way."
Did they think about the role that No Exit could play in the musical life of Cleveland when they formed the group? "We did, and not to sound too full of myself, we planned out a course from the beginning and we've stuck with it. We've been very lucky that so far it's paid off. We knew it would take some time to build an audience that would support groups like us. We needed to develop relationships with venues that fit the music we play, and places whose audiences were already somewhat aware of new music. That way, we'd have a chance of getting people in there even if they didn't know us."
Since the group's founding, No Exit has performed regularly at Cleveland State University, where they are an ensemble in residence, as well as at SPACES Gallery, and Heights Arts.
Over time, No Exit has increasingly made collaborations an important part of their programming philosophy. "As I've grown older, I see less of a separation between artistic mediums," Beyer said, "and over the past few years we've sought out collaborators who blur those lines. We've also brought in some great musicians from all over the country. This also ties into the idea of creating a culture for what we do. Cleveland has a lot of great new music groups aside from us, but it is beneficial to bring in people who I feel are the best at what they do. And the audiences have been responded positively."
Beyer takes great pride in the fact that No Exit has had only one personnel change since 2009, when violist James Rhodes replaced Tom Bowling a couple of years ago. "Everyone has a good time making music together, and they want to get it right. There has been an astounding level of dedication to the ensemble, and all of the members have dedicated to make their homes in Cleveland. They've had opportunities in other places, but have chosen to stay because they want to be here."
How does Beyer spend his time in the city when he's not working? "I could talk about Cleveland all day," he said with a laugh. "I've always been a local history buff, and there's a plethora of interesting buildings and neighborhoods in this city. I do go to the Art Museum on a regular basis, and I like going to the police museum and some of the lesser-known cemeteries. And now that there are many great restaurants in Cleveland, I do take advantage of them. My folks were very hip on Zack Bruell's restaurants, so I grew up eating at them. I still think they're as good as it gets, but I do enjoy all of the great ethnic food as well."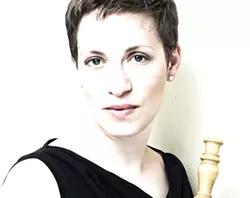 Like many classical musicians living in Cleveland, Debra Nagy, Baroque oboist and founder of Les Délices, first came to town to attend conservatory. Although the Westchester County, New York native was always involved in music, it wasn't until she was fifteen that she realized she wanted to be a professional musician. Soon afterward, she joined three youth symphonies in Manhattan.
"I started my undergraduate studies at the Manhattan School of Music, and if you had asked me in 1996 if I would ever end up in Ohio, I would have told you no," said. "The story I like to tell is that I thought New York City would be the first and last stop on my train."
While at the Manhattan School, Nagy met oboist Toyin Spellman-Diaz, an Oberlin grad who's now a member of the Imani Winds. "Toyin kept telling me that I should think about going to Oberlin," Nagy said. "Coincidentally, my best friends, and the people whose playing I really liked and respected most, were all Oberlin grads. Clearly there was something right about where those people had studied."
Nagy entered Oberlin as a modern oboe player, but soon found herself being introduced to the school's historical performance department. "I didn't know anything about the Baroque oboe when I arrived," she said. "But my teacher, James Caldwell, told me about Oberlin's Baroque Performance Institute and encouraged me to attend the summer after my first year. He said he was sure I could get a scholarship, and even if I ended up hating the instrument and never played it again, the experience would make me a better modern oboist. So I said fine, I'll do it. I ended up going into it head first — and the rest is history."
After completing her bachelor's in modern oboe, and a master's in historical performance, Nagy received a grant to study Baroque oboe in Amsterdam. She then returned to Cleveland and enrolled at Case Western Reserve University, where she earned a DMA in Historical Performance Practice.
Nagy's ultimate decision to stay in Cleveland and to form the French Baroque ensemble Les Délices evolved over time. "I was playing with many groups around the country, but I felt like I had more connections with audiences and organizations in cities like Seattle and San Francisco — my identity in Cleveland at that time was more of a choral singer because of my church jobs. I felt that if I were to stay here, I would need to create an artistic identity in the city. I knew I wanted to do interesting work and make a contribution to the Early Music field by doing things that were a little different from what people were doing both locally and nationally.
The idea to create Les Délices did not present itself fully-formed. "At different stages in our development as musicians we look for different ways to challenge ourselves, and create opportunities that we're not finding elsewhere", Nagy noted. "It started with a recital here and a recital there. Before Les Délices existed I played some chamber music concerts with violinist Scott Metcalfe, gambist Emily Walhout, and harpsichordist Lisa Crawford. I told them that I really wanted to make a CD — which I did, financing it from my savings. I'm happy I did that because it was an opportunity for real personal growth, as well as to reach another level in my own artistry."
Then two things happened. First, Nagy decided it was time to plan a full season of concerts for her new ensemble, and second, she received a Creative Workforce Fellowship grant from Cuyahoga Arts and Culture. "That made all sorts of things possible. I had planned Les Délices's first season before I got the grant, so I felt extraordinarily lucky to be awarded it midway through that season. It made so many things possible. Having those funds gave me the financial cushion whereby I could establish a relationship with audiences. And being able to create more programs developed my identity as a curator, which I hadn't necessarily thought about before."
Nagy said that she truly started to connect with Cleveland when she moved to the West Side — first to Tremont, then to Ohio City. "I moved the very week that I recorded the first CD. That was also when I became a bicycle commuter. By riding through the city every day, I got to see and experience Cleveland in a way that your average person never does. That was when I really started to feel invested in Cleveland and began to feel like I knew and loved the city."
That move also allowed Nagy and her partner Ana to become involved in gardening. "In Tremont, we became part of a community garden that we shared with some fantastic neighbors, pretty much all of whom were artists in one way or another."
The Baroque oboist loves living in Ohio City. "I was involved with the Ohio City Bike Co-op for a while. If I had more time I would totally be there because I think that organization is fantastic. I'm also very passionate about the West Side Market — that was a place I loved going as an Oberlin student. From my perspective, the Market brings an incredible value to the city for someone who is not originally from here."
Nagy is very pleased that her work with Les Délices has continued to evolve to the extent that the ensemble will be presenting its most varied season ever this year. "We've expanded beyond a group that just performs French Baroque music to late Medieval music. We'll perform the music of Mozart for the first time, and the October concerts will include a jazz crossover element."
Find more of Mike Telin's work at ClevelandClassical.com.