Page 2 of 2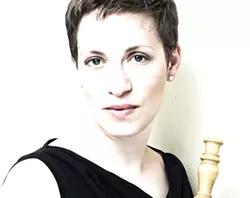 Like many classical musicians living in Cleveland, Debra Nagy, Baroque oboist and founder of Les Délices, first came to town to attend conservatory. Although the Westchester County, New York native was always involved in music, it wasn't until she was fifteen that she realized she wanted to be a professional musician. Soon afterward, she joined three youth symphonies in Manhattan.
"I started my undergraduate studies at the Manhattan School of Music, and if you had asked me in 1996 if I would ever end up in Ohio, I would have told you no," said. "The story I like to tell is that I thought New York City would be the first and last stop on my train."
While at the Manhattan School, Nagy met oboist Toyin Spellman-Diaz, an Oberlin grad who's now a member of the Imani Winds. "Toyin kept telling me that I should think about going to Oberlin," Nagy said. "Coincidentally, my best friends, and the people whose playing I really liked and respected most, were all Oberlin grads. Clearly there was something right about where those people had studied."
Nagy entered Oberlin as a modern oboe player, but soon found herself being introduced to the school's historical performance department. "I didn't know anything about the Baroque oboe when I arrived," she said. "But my teacher, James Caldwell, told me about Oberlin's Baroque Performance Institute and encouraged me to attend the summer after my first year. He said he was sure I could get a scholarship, and even if I ended up hating the instrument and never played it again, the experience would make me a better modern oboist. So I said fine, I'll do it. I ended up going into it head first — and the rest is history."
After completing her bachelor's in modern oboe, and a master's in historical performance, Nagy received a grant to study Baroque oboe in Amsterdam. She then returned to Cleveland and enrolled at Case Western Reserve University, where she earned a DMA in Historical Performance Practice.
Nagy's ultimate decision to stay in Cleveland and to form the French Baroque ensemble Les Délices evolved over time. "I was playing with many groups around the country, but I felt like I had more connections with audiences and organizations in cities like Seattle and San Francisco — my identity in Cleveland at that time was more of a choral singer because of my church jobs. I felt that if I were to stay here, I would need to create an artistic identity in the city. I knew I wanted to do interesting work and make a contribution to the Early Music field by doing things that were a little different from what people were doing both locally and nationally.
The idea to create Les Délices did not present itself fully-formed. "At different stages in our development as musicians we look for different ways to challenge ourselves, and create opportunities that we're not finding elsewhere", Nagy noted. "It started with a recital here and a recital there. Before Les Délices existed I played some chamber music concerts with violinist Scott Metcalfe, gambist Emily Walhout, and harpsichordist Lisa Crawford. I told them that I really wanted to make a CD — which I did, financing it from my savings. I'm happy I did that because it was an opportunity for real personal growth, as well as to reach another level in my own artistry."
Then two things happened. First, Nagy decided it was time to plan a full season of concerts for her new ensemble, and second, she received a Creative Workforce Fellowship grant from Cuyahoga Arts and Culture. "That made all sorts of things possible. I had planned Les Délices's first season before I got the grant, so I felt extraordinarily lucky to be awarded it midway through that season. It made so many things possible. Having those funds gave me the financial cushion whereby I could establish a relationship with audiences. And being able to create more programs developed my identity as a curator, which I hadn't necessarily thought about before."
Nagy said that she truly started to connect with Cleveland when she moved to the West Side — first to Tremont, then to Ohio City. "I moved the very week that I recorded the first CD. That was also when I became a bicycle commuter. By riding through the city every day, I got to see and experience Cleveland in a way that your average person never does. That was when I really started to feel invested in Cleveland and began to feel like I knew and loved the city."
That move also allowed Nagy and her partner Ana to become involved in gardening. "In Tremont, we became part of a community garden that we shared with some fantastic neighbors, pretty much all of whom were artists in one way or another."
The Baroque oboist loves living in Ohio City. "I was involved with the Ohio City Bike Co-op for a while. If I had more time I would totally be there because I think that organization is fantastic. I'm also very passionate about the West Side Market — that was a place I loved going as an Oberlin student. From my perspective, the Market brings an incredible value to the city for someone who is not originally from here."
Nagy is very pleased that her work with Les Délices has continued to evolve to the extent that the ensemble will be presenting its most varied season ever this year. "We've expanded beyond a group that just performs French Baroque music to late Medieval music. We'll perform the music of Mozart for the first time, and the October concerts will include a jazz crossover element."
Find more of Mike Telin's work at ClevelandClassical.com.