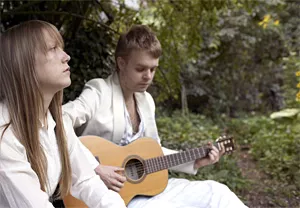 White Magic brings their indie folk to the Beachland on Tuesday.
There are moments on the new White Magic EP, Dark Stars, that recall '60s singer-songwriter Judy Collins. The connection makes zero sense, since Collins is a celestial body with a voice carved from crystal. White Magic's singer, Mira Billotte, is small and grim, with a moan that's as black as 3 a.m. on a moonless mountaintop. Billotte sees herself as more like the young suburban wanderer that she portrayed in the 2004 indie film Chain. "She was a more extreme version of me: struggling, semi-homeless, working really terrible jobs," admits the part-time actress.
But like Collins, Billotte and her band — which also includes multi-instrumentalist Douglas Shaw and a rotating cast of musicians — wipe away the lines that separate acoustic folk, theater tunes, and art-song traditions. "That's what music is all about: creating new sounds that no one has made before," says Billotte. Dark Stars sounds like the score to an off-Broadway show with a modern twist. Billotte and Shaw have ditched the European-derived song structures they used to rely on and replaced them with cyclical compositions and collage-like patterns — which are partially influenced by dub and electronic dance music. Then again, White Magic may be just another role for Billotte.