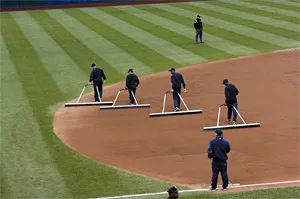 Cleveland, you may have heard, is not the greenest city in the world. Ours is a city where a hybrid is a Polish-sausage pierogi and a car pool is something confined to the world of Dagwood. So perhaps it should come as no surprise that here, a bicycle is treated like an alien vehicle.
Feeling masochistic and out of nipple clamps, Punch decided to attend a recent Indians game at the Prog, where, before this weekend's unheard-of sweep of the Devil Rays, bumbling players and fed-up fans have been staging nightly reenactments of the first hour of Major League. And with gas becoming a luxury only a shah can safely afford, we decided to bike to the stadium.
We locked our Schwinn to a street sign in the square between Progressive and the Q. But when we returned after the game — Jhonny Peralta's batting cleanup? And what happened to that fat guy with the tilted brim? — we found our beloved rig was missing. Wondering how this could happen in an area infested with security guards, we told one that our bike had been stolen — at which point the guard officiously unclipped his walkie-talkie and spoke into it: "Dispatch, we have the subject who left the bicycle."
After some needling, the guard explained: "There's no bike-parking in the square."
Punch was directed to a little room a block away, where, after answering some pointed questions — "No, we don't know why Pronk's not hitting" — and describing our bike — wrongly, we might add — our ride was returned to us, with the lock still attached. The guards had lifted the sign out of the ground to snatch the bike.
Turns out there's a tiny bike corral down an alley between the two stadiums — and if you park elsewhere, the guards play cat burglar. You'd think they could save themselves the trouble with one or two signs stating as such. Then again, if they did that, they wouldn't get to use those cool walkie-talkies.
Sun Set?
Things aren't exactly rosy in the Cleveland newspaper scene. Scene and Free Times are merging. The Plain Dealer's losing pages, and bodies are next. And staffers of a chain of local papers are worried that their company will be the next to be cannibalized.
Founded in 1969, the Sun News puts out 22 weekly community newspapers around Northeast Ohio. Ten years ago, the parent company of the PD, Advance Publications, bought the chain. With U.S. Justice Department agents combing through files in the newsroom to ensure this wasn't a planned monopoly in one market, the papers initially took great pains to distance themselves from each other. "It used to be that the Sun and The Plain Dealer did not even name each other in news stories," a Sun source tells Punch by e-mail. "We called the PD 'the local daily.' They called us 'a community weekly.' It was an unwritten policy that we did not acknowledge each other in print."
But in 2006, Advance, faced with plummeting page counts and looming layoffs in both papers, hired former St. Louis Post-Dispatch publisher Terry Egger as publisher of The Plain Dealer and de facto publisher of Sun. And that's when "the walls came down," the source says. "Now we are getting cozier by the month."
The two do seem quite chummy. Sun is now printed at the PD's plant, and Sun subscribers now get the Sunday Plain Dealer for free. The Sun cut its TV schedule book, referring readers to the same section in The Plain Dealer. It will also no longer endorse judge candidates — once a staple of its editorial coverage — leaving that instead up to the PD.
Perhaps most ominously, the two papers are now delivered in the same bag, and some subscribers have found their Suns folded into their Plain Dealers — feeding the buzz around the Sun that they're fated to become little more than an insert inside the Sunday edition of the big paper.
Honchos of both papers insist that the Sun is safe. "I want to use this opportunity to put to rest any idea that the PD owns Sun," says Sun Executive Editor Linda Kinsey. "I have heard some concerns, but most of the comments come out of not understanding what's going on here. Because of the economic climate being what it is, we have partnered on the business side to run our distribution."
And, Kinsey says, there are no plans to make Sun an insert. "Some people may have found their Sun folded into the PD," she says. "They're not supposed to be folded into one or another. The Sun is delivered in the same bag, because it just makes sense. It comes to a time when it's not affordable to deliver them separately."
But our source is unconvinced: "Sun was a stronger entity when it was independently owned and made its own decisions about circulation, production, and editorial, without interference from the Big Guy down the block. Now, with both major newspapers in town swirling into one mass entity, both are being weakened, and the people lose."
It Feels So Wright
The PD's lead Cavs writer, Branson Wright, has been taken off the beat by the paper, although it seems his years of high-level suckitude have little to do with his journalistic beheading.
Sources told Punch of Wright's demotion last week, and the excitement nearly caused us to choke on our Polish-sausage pierogi. For years, devoted Cavs fans have been subjected to Wright's musings on the team, which read like the screed of a drunken fourth-grader. And that's on his best day.
But apparently a plush job covering the NBA for a major daily — despite his possessing the writing chops of a highly evolved meerkat — wasn't good enough for Wright. So he apparently dreamed up Branson Wright Productions, a lamely named company he supposedly created with the intention of filming a documentary. Newsroom whispers had Wright working on that project while at Cavs games and perhaps even involving other PD reporters.
And the unparalleled lameness doesn't end there: On February 22, sources said, Wright attended the Cavs vs. Wizards game at the Q — an important day for Cavs fans, as it marked the first game after the team pulled off the Least Impactful Trade Ever. Wright was supposed to cover the fresh faces for that Sunday's PD. So the paper dispatched his back up, Mary Schmitt Boyer, to write the game report.
To everyone's surprise, however, Wright was in fact writing a game story that night — for The Washington Times. When the Times' beat reporter couldn't make it to the game, Wright apparently saw an opportunity for some extra cash. He filed the story, "Wizards Off Mark on Final Chance," under the very clandestine byline "B.R. Wright." (Wright didn't return our calls.)
So now the PD is in search of a new Cavs beat writer. As long as they don't hire B.R., whoever it is will be considered an upgrade.