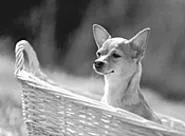 Watch out for this one at Working Dog Weekend. He'll steal your cookies!
4/23-4/24
During Working Dog Weekend, beware of the frisky Chihuahua judging the canine-cookie contest. The two-day Fidofest features more than 200 dogs -- from sheep-herding border collies and raft-pulling Newfoundlands to members of the Ohio Search Dog Association that scoured Ground Zero after 9-11. But the highlight of the fest is when three wet-nosed judges sniff plates of cookies to find the tastiest treat. Keep an eye on that Chihuahua; he'll eat anything. "One year, that little guy devoured a biscuit bigger than he was," recalls coordinator Denise Gressley. "And they really go for garlic. But anything's better than dog breath." Working Dog Weekend is from 9 a.m. to 5 p.m. Saturday and Sunday at Lake Farmpark, 8800 Chardon Road in Kirtland. Admission is $6, $4 for kids. Call 440-256-2122 for more info. -- Cris Glaser
His Big Fat Greek Hero
A new-school author revives an old-school thinker.
WED 4/27
Christopher Phillips is doing his part to make philosophy hip for the 21st century. "It used to be hip in the 5th century B.C.," laughs the author of Six Questions of Socrates, which trots around the globe in search of answers to such age-old queries as "What is virtue?" and "What is courage?" "Over the course of the next centuries, it became cloistered in academia. I'm trying to steal it back."
Six Questions follows Socrates Café, Phillips' 2002 bestseller, which got the philosophical ball rolling. "You can write popular books on philosophy without writing a lot of highfalutin jargon," he maintains. "It's part of a quest to resuscitate a form of inquiry that's not just dusted off, but applied in modern contexts." For Questions, just out in paperback, Phillips traveled to Seoul, Mexico City, and Japan, and made a remarkable discovery. "Everyone wants to leave the world a little better off than it was when they got there," he says. Phillips is at Joseph-Beth Booksellers (24519 Cedar Road in Lyndhurst) at 7 p.m. Wednesday. Admission is free; call 216-912-1975. -- Michael Gallucci
Strike Zone
THU 4/21
Nancy Zafris's Lucky Strike has one hell of a premise: A young widow packs up her children and heads to Utah to look for uranium in 1954. "It was sort of like the gold rush, with all of these prospectors with Geiger counters rushing in," says the author. "The average person, who knew nothing, was out there with a Geiger counter." The story eventually takes a turn toward conventional themes of hope, redemption, and family, but it's the big picture that matters, notes Zafris. "This mother is very responsible," she insists, "and she's doing what she thinks is best for her kids." Zafris signs her book at 7 p.m. Thursday at Joseph-Beth Booksellers, 24519 Cedar Road in Lyndhurst. Admission is free; call 216-912-1975. -- Michael Gallucci