Nine hardcore foodies and fans of chef-restaurateur Zack Bruell's cuisine got a treat Tuesday night: A four-course progressive dinner in all four of Bruell's dining rooms, including Table 45, Chinato, Parallax, and L'Albatros. Also along for the (limo) ride was the chef himself, accompanied by event organizer Allison Kolodziej of Falls Communications and yours truly.
Ranging from their mid-twenties to the solidly middle-aged, the diners were among the winners in this year's Tour de Bruell, an annual contest that rewards frequent guests at the chef's restaurants. The Tour, which runs from Memorial Day to Labor Day, provides several types of prizes. Tonight's fete rewarded those who were the first to dine at all four restaurants within the specified time frame. In fact, most of the winners completed their tour in less than a month; one got the job done in a week!
The night began at Table 45 with artfully composed plates of sushi, sashimi, and a sashimi-style salad of buttery escolar and whole baby octopus. A dash of ponzu made the flavors shimmer. The nigiri sushi included tuna, hamachi, and nama sake. And four pieces of futomaki were equally out of this world — especially the lora roll, wrapped in colorful soy bean paper and bursting with the contrasting textures and unctuous flavors of shrimp tempura, spicy sauce, mayo, and mango.
Cheerful and full of anticipation, we then traipsed onto a limo bus and headed for Chinato; as a palate cleanser, several detours up and down Euclid Avenue gave us a great vantage point on the Avengers set at East Ninth. Waiting for us at this East Fourth destination (packed, by the way, even on a Tuesday evening) was a petite starter: delicate suppli, or mozzarella-spiked risotto balls, in flawless marinara with a tiny fried baby artichoke salad.
The next dish was more substantial: broad, elastic ribbons of fresh pappardelle in an earthy, creamy cauliflower puree. Hints of fresh garlic and crushed red pepper added haunting dimension. Then it was back to the bus for the trip to Parallax. The fact that each course was accompanied by free-flowing wines — mainly crisp, refreshing whites — made for predictably well-lubricated conversations during the transportation portion of the evening.
Also intoxicating in their own way were the breads that accompanied each course from On the Rise, the city's premier artisanal bakery.
At Parallax, grilled swordfish was the star, served on a "salad" of locally grown dragon's tongue beans in a yellow-tomato butter sauce. Bruell explained that much of the produce used at his four restaurants, including the dragon beans, comes from Cleveland Crops, an urban farming project led by the Cuyahoga County Board of Developmental Disabilities, with plots located throughout the city. A September 7 dinner at Chinato is planned to highlight Cleveland Crops' products; see the website for details.
By the time we loaded back onto the bus, some of us were fiddling slyly with waistbands and belt buckles. But that didn't deter us much from polishing off the night's final delights at L'Albatros: a selection of three savory artisanal cheeses — a French washed-rind goat cheese, an extra sharp Cabot cheddar, and an awesome Spanish blue made from a blend of cow and goat milks. Each arrived paired with its perfect mate: a 10-year tawny port, a sweet Cyprian red wine, and a sturdy Russian imperial stout.
The final treat? Petite wedges of sweet, moist, and super dense polenta cake garnished with assorted fresh berries and tiny truffles like clouds of chocolate whipped cream.
All diners who complete the Tour de Bruell before Labor Day will snag a branded t-shirt. From that group, 10 semi-finalists will be randomly selected to enjoy a complimentary wine-tasting dinner at Table 45. In addition, one grand prize winner will receive a custom, in-home, four-course dinner for eight, prepared by Bruell himself.
Look for the Tour to return next summer with a twist: With the opening of Bruell's newest restaurant inside the former Cowell & Hubbard on Playhouse Square, "first to finish" winners will have five courses to conquer. -- Elaine T. Cicora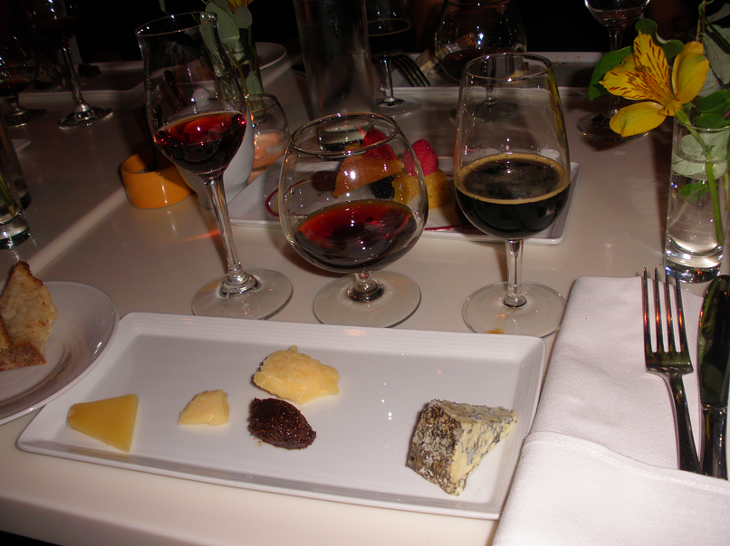 8 slides