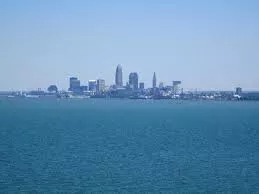 tropicaltammi@tripadvisor
Our skyline from Pier W
Sure, Pier W has a great happy hour but that's not why I have a soft spot for the place. I love Pier W because when I was a wee lass, it was my date-night-with-dad spot; where I learned how to eat oysters on the half shell the proper, grown up way at the age of six.
While Dad loved the seafood menu, he also loved the view. And so do the folks over at The Daily Meal, who rate the scene from Pier W's expansive windows among the top 20 restaurant views in the country. Here's what they say:
This chic and stylized Cleveland landmark is placed right on the edge of scenic Lake Erie and across the lake from a stunning city skyline. Enjoy Pier W's romantic view as you sample the New American cuisine focused on seafood, especially the crab cakes and the bouillabaisse with fresh fish, mussels, clams, and shrimp.
Even more impressive than making the list is the company Pier W keeps there. Other winning water views include such culinary legends as San Francisco's Slanted Door and Sutro's at the Cliff House, Sierra Mar in Big Sur, the Signature Room in Chicago, Azul in Miami, and Honolulu's La Mer.