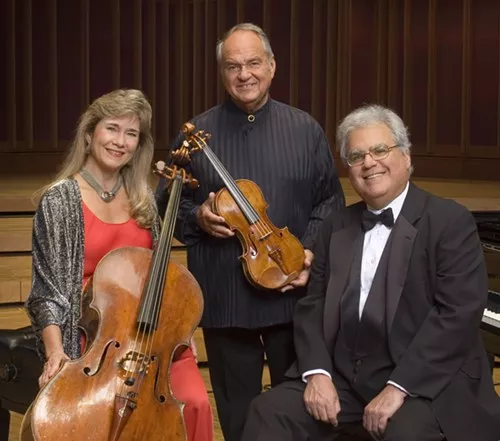 Photo: Fred Collins
Sharon Robinson, Jaime Laredo, Joseph Kalichstein
Was it the group or was it the space?
Actually, it was both. Last night's Mixon Masters concert at the Cleveland Institute of Music featured a world-class chamber ensemble, the Kalichstein-Laredo-Robinson Trio, that turned in brilliant readings of Beethoven and Brahms standards and a lively, puckish version of a new work by André Previn.
But for this critic, hearing his first concert at Mixon Hall, it was the sound that was riveting. Designed for chamber music performances, the hall is at once intimate (just 235 seats) and expansive, with a five-story double glass wall at the back of the stage that overlooks a lush garden. Along the sides, tall wooden walls honeycombed with louver baffles create a remarkable acoustic environment. The music resonates from the hardwood stage with exceptional clarity, full with a deep bottom and crystalline high end.
Almost anyone would sound good in that space. Put a polished piano trio with 35 years of experience playing together in it, and you have a breathtaking evening of outstanding music.
The K-L-R Trio's genius lies in a combination of virtuoso playing skills, tasteful interpretation and absolute fidelity to the material. That was clear from the opening bars of Beethoven's Piano Trio in G Major, Op. 1, No. 2, rendered in a classic straightforward style with emotional expression reserved for selected moments like the violin leads in the second movement. Pianist Joseph Kalichstein showed soft hands throughout the entire piece, even in the crisp closing lines, with the strings putting a razor's edge on the final notes.
Like the best ensembles, the K-L-R Trio inhabits their repertoire pieces, a level of proficiency and skill that came to the fore in the closing work, Brahms' Piano Trio in B Major, Op. 8. In contrast to the restraint exercised in the Beethoven piece, the players gave full-blooded volume and energy to the rich Romanticism inherent in the Brahms, particularly in the strings. Violinist Jaime Laredo and cellist Sharon Robinson could take it down as well, trading fine filigree lines to open the second movement, then swelling to a passionate sweep in the final movement, with Kalichstein adding heroic strains on the keyboard.
For all that, the gem of the evening was Previn's Piano Trio No. 2, written specifically for the trio, who debuted it earlier this year at Lincoln Center. This was only their third performance of the piece, but it certainly didn't sound like it. The ensemble's command of the material was masterful. It includes solo parts that give each player a chance to shine — melodramatic piano passages, exacting cello tones, difficult violin runs — and some distinctly modern flourishes that also afford some fun, like piano rhythms in the final movement that skirt the edge of boogie-woogie, which Kalichstein played with wit and pizazz.
As the piece unfolded in a dizzying succession of textures, themes and cinematic explosions, it was hard to imagine it being written by an 83-year old man. It sounds totally fresh and contemporary, even mischievous, as Previn challenges the players not only to play difficult individual parts, but to make abrupt changes as a group in mood, tempo and balance. Hearing it played with such skill and intelligence was thrilling.
Still, what lingers is that sound…and the stage, with bright fall colors on saplings outside providing a vivid, almost surreal backdrop to the performance. Judging by what was on display last night, there will be more impressive visuals, and equally captivating music, in Mixon Hall for many years to come.