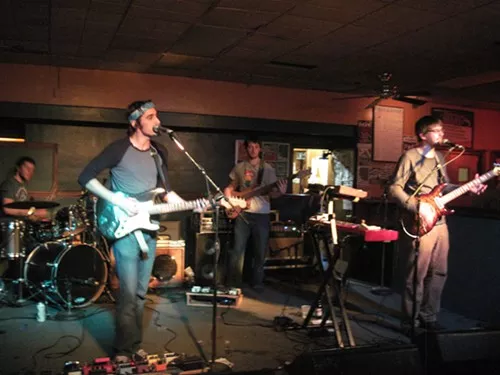 ERIC SANDY/SCENE
Aqueous at Beachland Tavern
Buffalo-based, groovy-as-all-hell jam band Aqueous showed up at Beachland Tavern last night to play to small but dedicated crowd.
The band is currently on a thorough tour of the region, reaching east toward New York City and back west to the likes of the Beachland and Grog Shop. They stopped in Cleveland back in December and they'll return April 3 and April 19.
The interplay onstage among band members is incredible. It's worth a ticket into the show on that merit alone. Even with a startling technical issue early in the set and minimal-at-best lighting, the four musicians offered up a complex whirlwind of a show.
Like fellow jam band contemporaries, Aqueous puts on a different show every night. (You can follow along with their setlist catalog online.) Shows feature original tunes, of which there's a growing roster, and a slew of diverse covers. Those in attendance last night got a slick take on The Beatles' "I Want You (She's So Heavy)" right in the midst of two funk-laden tunes. Later on in the night, a fellow fan noted that Aqueous had dished up the greatest rendition of "Gangster's Paradise" ever to be heard by human ears.
Vaulting from throttling, bass-led rock 'n' roll into stratospheric ambient washes, each band member showcased a startling versatility on their individual instruments. And there was a healthy dynamic of open-ended improv balanced against some really complex compositional work.
The jam scene today, which differs wildly from the Dead's heyday or even the ascension of Phish in the mid- to late-90s, is replete with a lot of mimicry and, let's say, *electronic Umphrey's spinoff soup* ...to turn a phrase. Sub-genres have formed and blossomed and rotted away all within the past decade and there remains no clear heir to whatever jam throne one wishes to talk about. And so it's unclear what sort of future lay up the road for Aqueous, but one thing is certainly true: They're not here to imitate anyone else. Their sound, which obviously draws on many different strains of music, is wholly unique and unrepentantly exciting.
Funktapuss, hailing from Cape Cod, opened the evening with fervor. They're another jam-friendly, high-energy band that knows their way around a slap-bass throwdown. Frontman Latez Crawley belted song after song, lending the upbeat music an air of magnificence and joy.
A Spotify stream of Aqueous' latest album is available at the bottom of this page.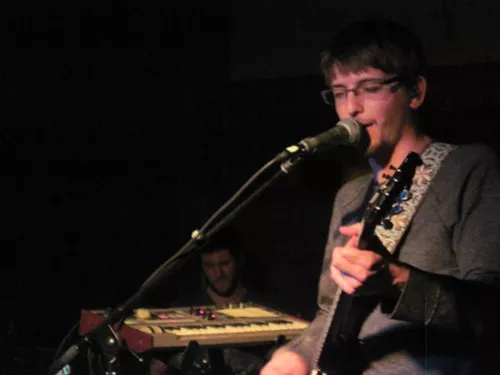 ERIC SANDY/SCENE
Dave Loss on guitar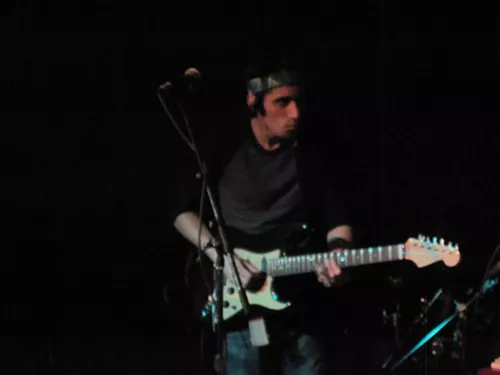 ERIC SANDY/SCENE
Mike Gantzer on guitar
ERIC SANDY/SCENE
Nick Sonricker on drums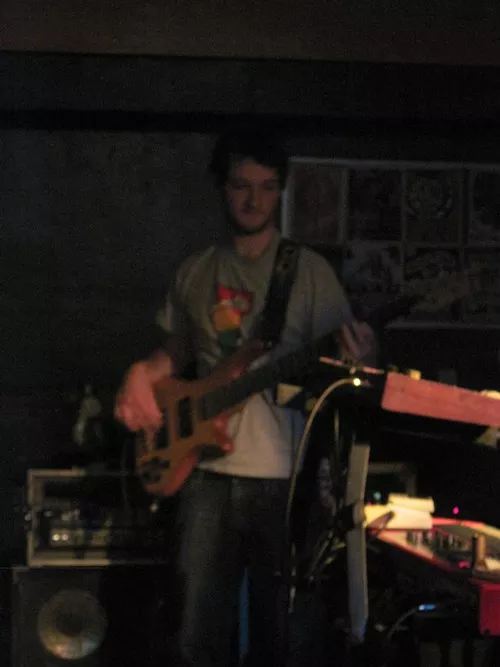 ERIC SANDY/SCENE
Evan McPhaden on bass