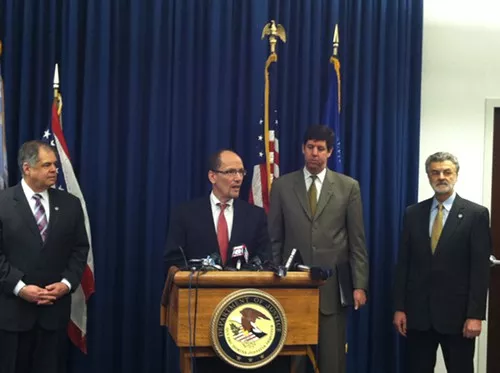 ERIC SANDY/SCENE
Tom Perez, assistant attorney general for the Civil Rights Division, announces the investigation into the Cleveland Police Department.
The U.S. Department of Justice will launch an independent, external review into the Cleveland Police Department with a goal of determining if there is a pattern of practice of excessive force.
Assistant Attorney General for the Civil Rights Division Tom Perez outlined in mostly vague terms the path that led the department to this investigation. He and others at the lectern emphasized that no one incident prompted this process, but the announcement danced around the Nov. 29, 2012, police chase and shooting.
"We will peel the onion to its core and leave no stone unturned," Perez said, evoking mostly uncreative metaphor. Indeed, however, the feds are kicking off what will likely be months of investigations into records, data, personnel interviews, ride-alongs, community outreach and more in an attempt to suss out how well police policy and training are working.
U.S. Attorney for the Northern District of Ohio Steven Dettelbach added that the investigation will swirl around factors such as officers' accountability, training and practices. If a pattern of excessive forces emerges, the parties will begin work on determining a remedy, such as a consent decree, a memorandum of understanding or the implementation of an independent monitor.
Mayor Frank Jackson was one of many parties in town to request such an external review. (He was joined independently by clergy, NAACP leadership, residents, U.S. Rep. Marcia Fudge and others.)
The Civil Rights Division of the Department of Justice engaged in an investigation into the Cleveland Police Department in 2002. That process involved the conditions of confinement at the Central Prison Unit. Perez said that that investigation will be at least one data point in the current investigation, adding that the timeline and scope of the work before them extends back for years.