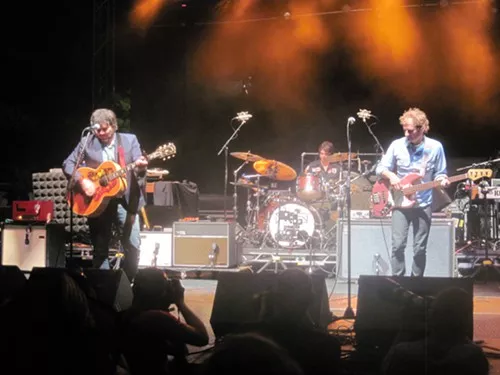 ERIC SANDY/SCENE
Wilco at Nelsonville Music Fest
Black clouds were brewing off to the west throughout the evening. As Mavis Staples and her band wrapped up a slick take on The Band's "The Weight," the crowd was getting visibly nervous. Ponchos came out. Eyes lifted toward the sky. The cloud moved in further.
A fairly severe thunderstorm cut Staples' early and prompted fans to rush toward shelter around the Nelsonville Music Festival grounds. Within an hour or so, most of the attendees had gathered at the front of the stage, nearly ankle-deep in mud.
Opening with a gentle "Forget The Flowers," Wilco started up a really wonderful post-storm set. "Muzzle of Bees," "Should've Been In Love" and "Company In My Back" rounded out the first four songs, leaving many in the crowd excited for what was turning out to be a mostly unorthodox show. With the unbelievably badass "Poor Places" > "Art Of Almost," which became a staple throughout last summer's tour, the show took a turn toward familiar - though still thrilling - territory.
Highlights included guitarist Nels Cline's top-notch lead work during "Impossible Germany" and "Handshake Drugs," as well as the psychedelic effects pulsating from Mikael Jorgensen and Pat Sansone's keys during "A Shot in the Arm." Next time you catch a Wilco show, be sure to lock in on Jorgensen's maniacal stage presence. Cline and frontman Jeff Tweedy typically steal the show, but one can pay close attention to any other band member (Jorgensen being the current era's MVP, since the release of The Whole Love) and watch dedication and soulful talent unfold in real time.
And with the closing insanity of "A Shot in the Arm," the band left the stage while the crowd awaited the final triumph of the night.
The two-song encore was short but sweet. Calexico's Jacob Valenzuela and Martin Wenk (trumpet), Joey Burns and Sergio Mendoza (accordion), and John Convertino (maracas) joined Wilco for "California Stars" and "I'm The Man Who Loves You." The alternate instrumentation added something really special to these tunes. (Scroll down for a video of "California Stars.")
Setlist:
Forget The Flowers
Muzzle Of Bees
Should've Been In Love
Company In My Back
Poor Places>
Art Of Almost
I Might
I Am Trying To Break Your Heart>
One Wing
Impossible Germany
Born Alone
Handshake Drugs
Jesus, etc.
Whole Love
Heavy Metal Drummer
Dawned On Me
A Shot in the Arm
E:
California Stars
I'm The Man Who Loves You