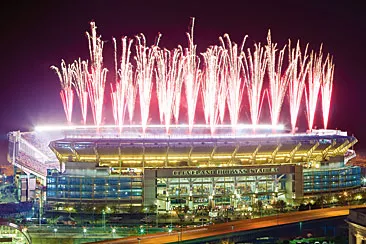 ESPNCleveland.com is reporting
a laundry list of updates to the "game day experience" at Cleveland Browns games for this season thanks to new Vice President of Fan Experience and Marketing Kevin Griffin. Among them are:
—"Fan Night": a free inter-squad scrimmage at First Energy Stadium on August 3rd.
—A new "pregame tailgate experience" in Heritage Hall, replacing the little-known "Tailgate Terrance."
—Upgrade player introductions with more "flames, pyrotechnics, and smoke" during player introductions, and a new hype video."
—"Newer, upbeat" music before and during the games.
—Wiener dog races during halftime.
Click here for more details and updates from ESPNCleveland.com. No word yet about if "wins" will be predominantly featured in Cleveland this fall.