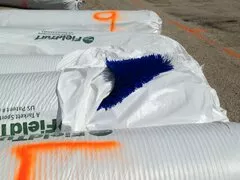 Via Colin Harris
Smurf Turf
Ravenna High School is tossing down some fresh turf in the stadium ahead of football season. The Record-Courier's Colin Harris
tweeted
out a photo of the new gridiron gear.
It's a bold, vivid blue. Boise State-style. Hell, let's call it Smurfesque.
The new turf is part of a series of broader renovations at the school's athletic complex, all of which clock in around $1.1 million. The plan is for that money to come from private investment from around the community. Ravenna High School Athletic Director Dave McBee was unfortunately not in his office to provide an all-important comment today.
As history proves, however, the shift to a blue on-field palette does not come without a patently Idaho-grown toll. Two years ago, Oxford (Michigan) High School Athletic Director Mike Watson received a letter of notice from Boise State University's general counsel declaring that the term "Blue Turf" was a long-held trademark of the school. The letter came shortly after the high school announced its own plans for blue turf. He added that the school was forced to start referring to the field as "True Blue Turf" or "Oxford Blue Turf" or "Navy Blue Turf."
How's about a little Tobias Funke under Ravenna's Friday night lights? Call it "I'm Afraid I Just Blue My Turf... Turf"