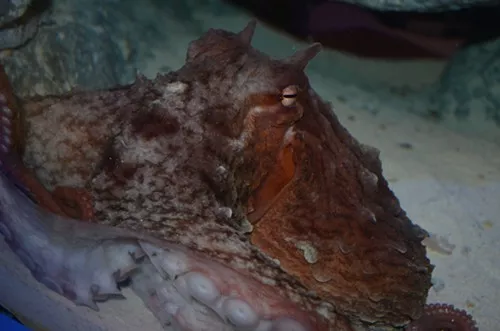 AKRON ZOO
Name this octopus!
Let's shift the local media's attention away from
eminent loser
Zack Reed for a moment and talk about
someone
something that's absolutely not a washed-up drunk: the Akron Zoo's new octopus!
Not only are octopi among the more interesting, if heart-achingly mainstream, cephalopods, but this one is holding down the fort right here in Northeast Ohio. And - AND - you have a chance to name this new lady.
The person whose name gets chosen will receive something called an "octopus prize pack" and a behind-the-scenes tour of the zoo's Journey to the Reef exhibit.
Last time around, when the late Cora arrived at the zoo, more than 2,200 names were entered in the competition. Three balls filled with shrimp, each bearing one of the top three names, were tossed into Cora's digs. After five minutes, the octopus opened the ball with her future name on it and, well, the rest is beautiful, beautiful history.
It's all happening again this week. The frenzy wraps up at 5 p.m. tomorrow, so GET ON IT.