Ohio State University has apparently acquired a new 19-ton mine-resistant ambush-protected military-style vehicle through a state military surplus program: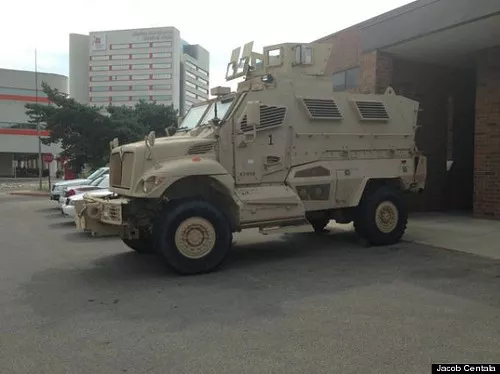 Photo Courtesy of Twitter
The truck, formally called a "MaxxPro," is built to withstand ballistic arms fire, mine fields, IEDs, and Nuclear, Biological and Chemical environments, according to its product description.
Why would a college campus need such a truck? one might ask.
OSU Police Chief Paul Denton recently told The Huffington Post that the vehicle was necessary for multi-hazard response, such as natural disasters, bomb threats, and school shootings, all of which the school has dealt with in the past.
"We pride ourselves on being self-sufficient from local authorities," Denton said, adding that Columbus' local police force does not have a bomb squad. "Frankly, we have to be. We are the primary responder."
But an armored truck? Really? Last we checked there weren't IEDs buried along High Street.