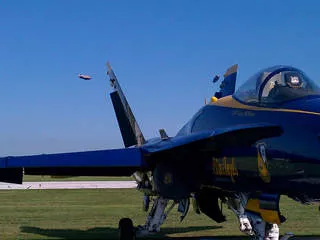 Photo Courtesy of NewsNet5
Clevelanders, rejoice: The U.S. Navy Blue Angels have booked their performance for the 2014 Cleveland National Air Show over Labor Day Weekend.
Much to everyone's dismay, the show was canceled this past year due to federal sequester budget cuts.
These cutbacks may still impact next year's show, and fans could notice a reduction in military presence at the Aug. 30 - Sept. 1 event at Burke Lakefront Airport. Regardless, organizers were adamant about putting together a performance for next year, especially since 2014 marks the show's 50th anniversary.
The spectacle usually attracts some 60,000 to 100,000 people each year and has an economic impact of $7.1 on the city. Needless to say, the Labor Day Weekend Cleveland National Air Show was sorely missed this past year.