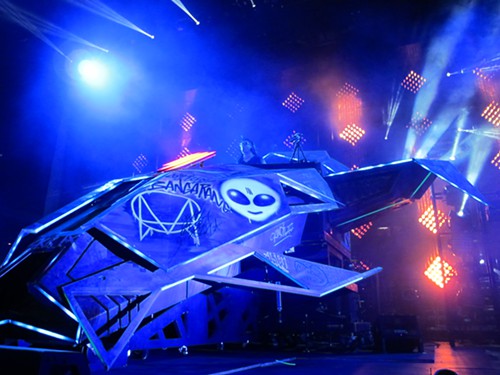 In the '70s, funk icon George Clinton toured with a giant "Mothership" prop that would land on the stage. He created an entire mythology surrounding the thing, and it was indicative of the excess associated with the period. It also allowed the creative Clinton appear as if he was some kind of alien invader, sent to earth to entertain the masses and bring "one nation under the groove." In 2011, the Smithsonian acquired Clinton's Mothership as a culture artifact. One day, you can imagine the Smithsonian folks might want to get their hands on the Mothership that Skrillex unveiled last night at Jacobs Pavilion at Nautica. The giant Transformer-like structure that resembled the Millennium Falcon ranks as one of rock's truly great stage props and shows the extent to which Skrillex approaches his live show as a spectacle. A popular DJ often credited for bringing electronic dance music into the mainstream, Skrillex sure knows how to throw a party. His Mothership Tour 2014, an extravaganza that pairs him with a slew of other DJs, is one of the summer's most anticipated tours and last night's rousing show displayed just how engaging an electronic dance music concert can be.
After a digital clock counted down the minutes until the concert's start, Skrillex made a dramatic entrance onto the stage. Perched atop the Mothership, Skrillex operated from the ship's cockpit as if he were some kind of fighter pilot on a mission. The high power sound system was more than capable of handling the music's deep bass beats and ratcheting squeaks. And Skrillex was a master at manipulating the music. Early in the 90-minute set, he played a reggae sample that then led into the ricocheting "Make it Bun Dem," a collaboration between him and Damian "Jr. Gong" Marley. Throughout the set, lazers flickered and a giant video screened displayed everything from animated artwork to a clip from the late-'70s/early '80s TV show Diff'rent Strokes that featured the show's star Gary Coleman dancing in syncopation to the music. "Devil's Den" benefited from the sound system's heavy, ribcage rattling bass and the siren-like sounds really had the crowd amped. Throughout it all, Skrillex dramatically turned knobs and adjusted the mixes of his music to match the crowd's frantic energy. He regularly hopped in and out of the cockpit and encouraged the audience to let loose by occasionally shouting obscenities into a microphone. His enthusiasm was clearly infectious and it helped that he so adroitly mixed in samples of hip-hop (Kanye West's "Dark Fantasy" went over particularly well) too.
Midway through the set, the Mothership appeared to launch and it stretched to the stage's ceiling, blowing out clouds of smoke as it extended upward, taking the show's theatrics to a new level. Clinton would have been proud — Skrillex practically blew the roof off the damn place.