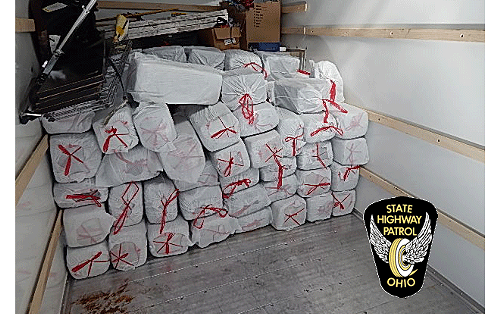 Photo courtesy of Ohio State Highway Patrol
Last week we penned a story about a $1.5 million drug bust in Geauga County - a raid that will go down as one of the biggest in county history - but all that's small potatoes compared to this latest bout of Ohio drug confiscation news:
On Saturday, police seized a whopping 2,330 pounds of marijuana after pulling over a U-Haul with Arizona plates for a traffic infraction on I-70 in Preble County, OH.
Police say the driver and his passenger claimed to be moving furniture from California to the East Coast, yet neither man had a valid driver's license and the furniture they were supposedly moving was mostly junk.
Drug sniffing dogs quickly discovered the duo was hauling far more valuable goods - 84 individually wrapped bundles of marijuana, valued at $11.6 million, and destined for distribution in Ohio.
The driver, Mario Arnold Mendoza of Texas, and passenger, Hector Andres Olea-Castro of Tijuana, MX, are currently being held in the Preble County Jail and have been charged with possession of marijuana.
If convicted with the second-degree felony, each man could be slapped with eight years in prison and up to $7,500 in fines.