Eric Sandy / Scene
The new Scranton Flats/Towpath Trail may not have the most nimble title, but it sure spruces up this desolate section of Cleveland.
talking
about the possibility of a neat path down there, dreams are coming true today. Myriad political leaders (Sherrod!) will roll out the giant scissors and open up another slice of the beloved Towpath Trail (this one coming in at $9.1 million).
The path clocks in at 10 feet wide, and it's complemented by broad swaths of freshly seeded grass on either side. In sum, the project cuts a beautifying grain across this cement-wracked portion of Cleveland. Traveling between the Flats and Tremont will not resemble traversing a war-torn country nearly as vividly now.
Contextually, the history of the Towpath Trail is an interesting and piecemeal tale. For decades, the idea has been to mirror the historic Ohio and Erie Canal Corridor with a walking/cycling/etc. trail, connecting 110 miles of Ohio wilds between Cleveland and the state's more bucolic environs. In terms of actual activity, the funding and construction of this project has been going on since 1993, when the first 22 miles opened within the Cuyahoga Valley National Park.
Fast-forwarding to the present day, opening up a bookend portion of the Towpath Trail here in Cleveland is a major milestone.
Promising an ice cream truck, historical characters in costume, and maybe even a tidy slight against the governor from our own County Exec Ed FitzGerald, today's ribbon-cutting ceremony takes place at 1 p.m. at the corner of Carter and Scranton (you know, the one with the stop sign that never quite feels like it should be there).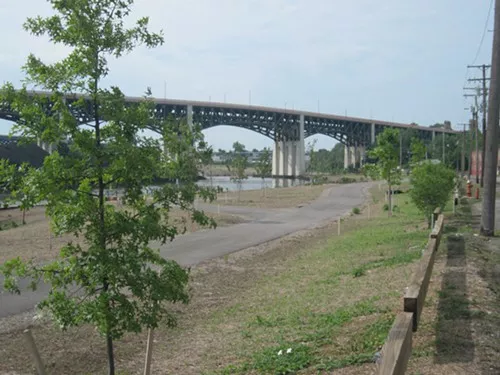 Eric Sandy / Scene
The views, while slightly industrial, will be terrific along the new trail.