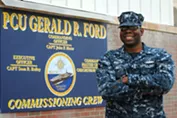 Navy Office of Community Outreach
Petty Officer Second Class Dameon Smith is a legalman aboard Pre-Commissioning Unit Gerald R. Ford.
Cleveland native Dameon Smith, a 1999 John Hay High School graduate, is serving in the U.S. Navy as part of a hand-picked crew charged with bringing the Navy's newest aircraft carrier into service.
The USS Gerald R. Ford is the first ship in its class and the successor to the Navy's Nimitz-class aircraft carriers that have been in operation for the last half century. Smith has been working with a 1,000-sailor crew to bring the ship back to life.
From the U.S. Navy:
When complete, the aircraft carrier, powered by two nuclear reactors, will measure more than three football fields long at 1,092 feet in length and will weigh more than 100,000 tons. It will be capable of sailing at nearly 35 mph and will carry more than 75 Navy aircraft.

"Petty Officer Smith plays a vital role in preparing our Nation's newest and most technologically advanced warship for sea," said Ford's Commanding Officer, Capt. John F. Meier. "We have the opportunity to build this command with the ideals of our namesake and we are creating the command climate and a culture of excellence that we have always wanted. This crew is setting that standard, a standard that will last for the 50-plus year life of the ship."
"I've learned to take advice from the leadership from my throughout my career and apply it to my everyday life," said Smith. "I take the things I've been told in the past and apply it to my life to accomplish my goals, which makes me a better person."