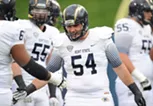 Kent State University officials confirmed that student and football player Jason Bitsko, 21, died unexpectedly this morning.
From the university:
Bitsko was found unresponsive in the bedroom of his off-campus apartment shortly before 9 a.m. Police believe he passed away from an undetermined medical issue.

Bitsko, 21, was set to begin his fourth year on the team and would have been the starting center for this coming season. He started all 12 games in 2013 and was recently selected to the Phil Steele's Preseason All-MAC Third Team. Bitsko graduated from Wayne High School in Huber Heights, Ohio, and was studying Marketing.
"Kent State University and the entire Kent community mourns his passing," said Joel Nielsen, Kent State's director of athletics. "We are heartbroken by the news of Jason's death. Our thoughts and prayers go out to his family, friends, teammates and everyone whose lives he touched."
Officers from neither Kent nor Brimfield have elaborated on the medical issue in question.