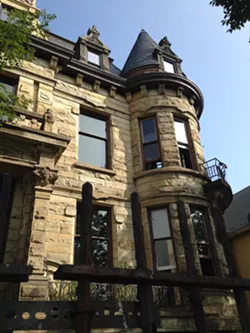 Franklin Castle, (aka
The Tiedemann House
) Cleveland's
most haunted house
, is currently under construction.
Crews have been sighted on multiple occasions over the past few weeks working on windows and the interior. When
Scene
popped by this morning, evidence of recent work was certainly visible on the grounds of the 19th Century Victorian mansion, located at 4308 Franklin Blvd.
Franklin Castle was sold in 2011 to Oh! Dear Productions, a foreign LLC, for $260,000. The buyer was a European tapestry artist with the Wes-Andersonesque moniker Mme. Chiara Dona dalle Rose. Local architect Robert Maschke
was contracted to renovate
the Castle for Mme. Rose as a two-family residence, a plan which neighbors enthusiastically supported at the time.
Maschke, reached by phone, said he's no longer associated with the project and suspects the owner is doing something independently.
As far as councilman Cimperman knows, the project is still residential, though a man at St. Herman's House of Hospitality next door said he thought it might be converted to a museum.
One thing is certain, though: After years of vacancy, ownership changes, and visible scarring from multiple fires, it's exciting to see a Near West Side landmark get the face lift it deserves...
before the spirits return.