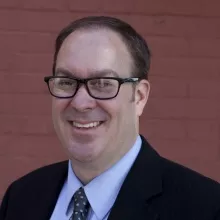 Courtesy of Ohio City Inc.
Tom McNair himself!
Ohio City Inc., the community development corporation that has helped launch and facilitate the west side neighborhood's steroidal growth over the past several years, has named Tom McNair its executive director.
McNair, 38, who has been serving as interim director since former chief Eric Wobser took his talents to Sandusky, is an architect by trade and had been serving as the director of economic development and planning for four years for the
powerful
CDC
.
"Ohio City is a unique place and authentic urban neighborhood, and there's a surge of interest here and across the country in places like this," McNair said in a press release Thursday morning. "We're seeing so much interest that we're really focused on balancing new investment and our role as regional and national attraction with the needs of our residents, which always come first."
McNair said he's interested in focusing on the "people" portion of OCI's strategic plan: things like the new Near West Recreation League, the preservation of parks and green space, the improvement of bike infrastructure on Lorain Ave., and the addition of single-family housing in the neighborhood's core.
McNair, who was the obvious choice for the position after a nationwide search, was (
as of last year
) the only OCI employee who didn't actually live in Ohio City. He makes his home out at Shaker Square and commutes on the RTA.
In fact, the press release said, he recently celebrated his ten-year anniversary of being car-free in Cleveland.
(McNair is not to be confused with the BBC's
Supernatural
werewolf,
Thomas McNair)