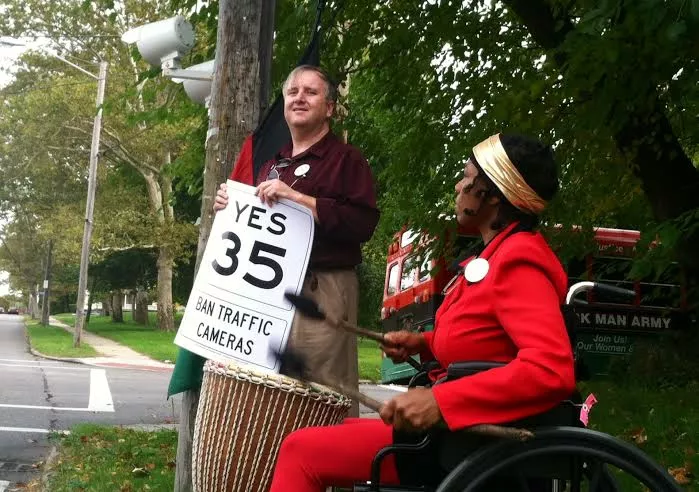 ERIC SANDY / SCENE
Jason Sonenshein holding sign warning of traffic cameras and urging ban on same.
Yesterday, a small contingent of protesters gathered at East 71st Street and Chester Avenue to urge a ban on Cleveland's use of traffic cameras. More specifically, they encouraged the public to vote "yes" on Issue 35.
"My main concern about the cameras is the due process — or the lack thereof," Jason Sonenshein, an organizer among the Issue 35 advocates, says. "You don't have the same procedural rights that you would if you got a real traffic citation from a real police officer."
The signature drive for Issue 35 took several years, but the measure is appearing on the ballots for the Nov. 4 election.
The backlash against the cameras has grown steadily since they were first installed at various Cleveland intersections in 2008. The city stands by claims that the cameras are making road travel safer, but opponents counter that the negatives outweigh any positive effects.
"Each ticket from these cameras takes about $60 out of the local economy," Sonenshein says. "The city only gets about $40 out of a $100 ticket. The other $60 goes to Xerox Corp., which until recently operated the cameras in Baltimore."
Members of
Black on Black Crime Inc.
and
Liberate Ohio
joined the rally, as well.