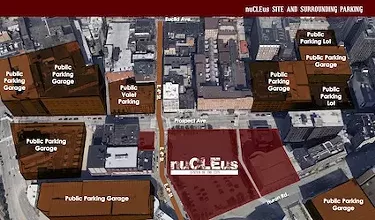 Remember when everyone was talking about The 9, like, three minutes ago? Well, now we're all abuzz with caffeinated talk about nuCLEus, the new high-powered downtown development project unanimously approved by the Planning Commission
this morning
.
Brought to the city by Stark Enterprises (famous for Crocker Park and decidedly
not
a sendup of
Stark Industries
) and J-Dek, nuCLEus comprises a $250-million project that will sit on the parking lot at East 4th and Prospect. The PD's and
not
the NEOMG's Steven Litt
reports
on this morning's meeting and provides this dynamic illustration:
Wearing a charcoal suit and a white shirt without a tie, [Robert Stark] spoke in a deep, booming voice and gestured broadly toward dual screens filled with projected images of diagrams sketching the basics of the plan.

(Well, that actually sounds a lot like a sendup of Stark Industries.)
Here's the gist: nuCLEus will involve tons of retail and office space,
a 150- to 200-room hotel
and some 500 residential units wrapped up in two 31- and 18-story buildings. A big parking garage will sit atop the retail spots. It's essentially a mashup of Crocker Park, The 9 and the
Flats East Bank project
, each of which are here to mainline rails of glitzy entertainment into various neighborhoods downtown — Vegas-style. (See flashing East 9th advertisements, etc.) Along with the forthcoming
Hilton hotel
, this will alter the skyline to some extent.
"The project would start with a sizable parking garage on Prospect that would be enveloped in retail space to create a vibrant presence on the street rather than just a concrete wall," Anthony Coyne, planning commission chairman, said this morning. He clarified that today's meeting granted conceptual approval; the next step in the process will involve architectural renderings.
nuCLEus has been picking up widespread praise — and for plenty of good reasons. At the core of all this is, of course, the simple fact that a local outfit wrested a dreary parking lot away from its California owners. That the development is taking place in the heart of downtown Cleveland — the project's namesake — complements the downtown renaissance narrative quite tidily.
But there is one small question that's worth posing in a sort of social critique sense: How sustainable is the new entertainment economy in Cleveland?
Projects like nuCLEus, The 9, the Flats East Bank, East 4th, Gateway — concerted massive development projects and, in the end, entertainment
districts
— are certainly fun to most people. And despite these early, dolorous Cavs games, LeBron's return to the city has absolutely galvanized a young demographic (the Big Party on opening night took place literally where nuCLEus will be built, for whatever that connection is worth). But is this what the city should be throwing tax-increment financing toward? Are civic leaders considering what demand for all of these districts, in aggregate, might look like on a regular old night in Cleveland?
Can Cleveland really fill all of these hotel rooms?
As Litt reports, Coyne ended this morning's planning meeting with a smile and an "OK, I'm exhausted listening to this."
All of a sudden, being excited about Cleveland
is
getting exhausting.