SAM ALLARD / SCENE
Downtown rally prior to the shutdown of State Route 2.
Video footage of the shooting of Tamir Rice will be released to the public at 1 p.m. Wednesday, Police Chief Calvin Williams said.
He joined Mayor Frank Jackson and other city leaders tonight at Cudell Rec Center — some 50 yards from where
12-year-old Tamir was shot by a police officer
last weekend — to answer dozens of questions from community members about public safety and the police department's work in Cleveland.
The mood was mostly peaceful, and many questions decidedly cut to the core of the matter: identifying a fundamental racial disparity among the police department's use of force and the prosecutor's record of convictions.
"This is a shame and a disgrace!" one woman said toward the end of the meeting, summing up a great deal of the night's emotions and garnering waves of applause. City leaders offered their condolences to the family, some of whom were in attendance, and attempted to answers questions about deadly force protocol, community policing techniques, patrolman training programs, internal psychological evaluations, and more issues connected to the shooting death of Tamir Rice.
But following that incident and the Ferguson grand jury response to Darren Wilson, much of the public outcry revolves around a near-total lack of trust in law enforcement. "The whole system is broken!" another woman told the police chief. Amid cries of "No justice! No peace!" and "Black lives matter," such was the tone of many public commenters tonight.
Check my timeline — @ericsandy — for some more specific and in-the-moment quotes, context, etc.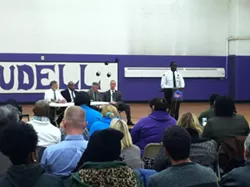 ERIC SANDY / SCENE
Police Chief Calvin Williams speaks to the public at Cudell Rec Center.
The community forum followed a massive protest downtown, which involved hundreds of people marching from Public Square to the Shoreway and ultimately shutting down State Route 2 near East 9th Street. Many of those protesters eventually made their way to Cudell, bringing the crowd size to some 400 or so as the meeting went on.
Among the more concrete answers provided by Williams was his reminder that the department's body camera program will be coming "online" at the end of January — a timeframe that some, including City Councilman Zack Reed, have decried as too late. Earlier this year, a city committee studied the impact of body cameras in several cities across the U.S. finding an 80-percent drop in citizen complaints and a 50-percent decreased in use of force incidents after the implementation of the cameras.
Williams also said that the department is intent on revamping its community policing program — a reform which will focus on youth, in particular. When pressed again and again for specific plans moving forward, Williams repeatedly returned to this point and his desire to be a more community-oriented and engaging force in the city. "I am committed to having a better police department for you," he said. What remains to be seen is just everything.
More information — including video footage and dispatch audio — is expected at tomorrow's afternoon press conference.