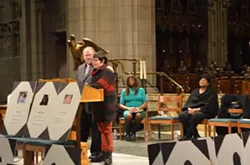 ERIC SANDY / SCENE
Skyler Edge speaks at Trinity Cathedral.
Skyler Edge is standing before several hundred people inside the beautiful and ornate Trinity Cathedral in downtown Cleveland. Silence settles around the room. He's nervously trying to find the right words to tell his story, half starting sentences and then retreating into another line of thought. The audience all has his back, though; the underlying theme here is one of mutual support. The high school junior is receiving an award tonight during the annual Transgender Day of Remembrance ceremony. Needless to say, it's a pretty big deal.
"I feel like a lot of the things that the transgender community deals with are due to misunderstandings and, just…
"I feel like, for a change to happen, everyone needs to know what it means and…
"I'm here because I had the opportunity to…"
It's been sort of a challenging road in getting here, Skyler freely admits. And public speaking is no walk in the park. He's here for a reason, though, and he details his current project: a film that will help reroute the current local and national dialogue on the transgender community. He wrote the screenplay, and the movie is currently being filmed just down the road in Old Brooklyn. The audience applauds adoringly. This is huge. Skyler smiles.
Most people around Skyler weren't entirely sure what the term "transgender" meant before Skyler came out last year. Even the teachers at his fairly progressive high school in Cleveland weren't totally sure what to make of it.
And so here's the thing about Skyler Edge: He's a student, yes, but he's first and foremost a teacher.
***
A film crew is setting up equipment along Montclair Avenue in Old Brooklyn. Commands buzz through walkie-talkies, and people hurriedly dash through sidewalk slush and late-November breezes, always minding the next deadline. On the third floor of the mid-century Charles A. Mooney Elementary School, where Facing History New Tech High School is stationed, the cast of extras works on makeup application and mid-morning snacks to pass the time. Skyler has never been on a film set before — nor have most of these students — so the whole thing is pretty exciting.
The film will be shown at festivals across the country and on Showtime next year. We're talking, broadly, about international audiences for Skyler's story. From there,
House Not Home
will become a part of certain high school curricula under the aegis of Scenarios USA, joining other films written by students that tackle issues related to gender, body image, substance abuse — the often gray-area issues that plague teenage life.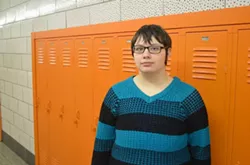 ERIC SANDY / SCENE
Skyler Edge
Skyler's story is about Terran Spring, a gender-variant student who has to face the broad stigma of being out in public. It's a story that can easily mirror many real-life narratives for teenagers across the gender spectrum.
"At one point, Terran just decides to be very open about themself and wear every effeminate clothing to school," Skyler says. "They end up with a lot of backlash and a lot of insults that escalate into violent and death threats — both online and face-to-face. Eventually they're kind of forced back into their house. While this is happening, they're also having problems with their father."
He says the main idea was to convey in general terms the arduous social pressures faced by LGBT youth, including, of course, Skyler himself. He was bullied. He came out as a lesbian in middle school, not fully understanding what that meant as he reached for some sort of terminology to explain his feelings. He was bullied some more.
"I didn't think that that was really right. I had this bad feeling that I wasn't saying the right thing, but I didn't really know what else to say," Skyler says. "So I told everyone that I was a lesbian. I was faced with a lot of — I got a lot of bullying for it. I actually got jumped. It wasn't as bad as it could have been; I only got my toe broken. I almost got pushed into oncoming traffic, but thankfully that didn't happen. After that, I was afraid."
Here, at Facing History New Tech, the sense of support is generous and active. But Skyler recognizes that a lot of uncertain teenagers don't always have such a safety net waiting to catch them.
"Terran has a lot of online friends. I really wanted to make the point about how important that can be for kids who might not be accepted elsewhere — to have that sort of network," Skyler says. "I hope that people will take it seriously and actually consider what their actions and their words might mean to someone. I want people to at least take the time to understand someone before they jump to conclusions."
In calling back the pronouns Skyler used to describe his protagonist, Terran Spring — "they," "themself," "their" — it's worth pointing out that words are powerful and important, particularly among oppressed cultures. Those words may also seem foreign or even wrong to the cisgender population (those whose experiences of their own gender match the sex they were assigned at birth).
Skyler wrote this story well before the prospect of the film came along. The whole time, he knew all about the power of words. This is, at its heart, an education film based on one kid's yearning to explain himself to others.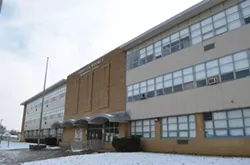 ERIC SANDY / SCENE
Facing History New Tech, on the third floor of this school.
Director Joshua Butler, whose notable credits include episodes of
The Vampire Diaries
and
State of Affairs
, joined the project after picking up on a powerful voice in the screenplay. He and the crew have just returned from filming a fight scene at a nearby park. He ducks back into the warm building, eyes his busy crew outside for a moment, and begins describing what brought him to Cleveland.
"This is about teenagers, written by a very talented teenager," he says. "When you're feeling like your place is not necessarily in the mainstream of high school life — you know, people get ostracized and people get bullied. This film excited me, because it allowed me to take on very important subject matter.
"There are multiple ways of living, and we should all try to be tolerant and accept people who who they are," Butler says.
***
In many ways,
House Not Home
mirrors the educational style of Facing History New Tech High School. The curriculum at times draws on controversial historical events and pushes students to think critically and find the humanity in otherwise static dates, data and images. It's the kind of learning that Skyler really enjoys. It's also the kind of learning that most of his classmates received well — so well, in fact, that Skyler began kicking around the idea of coming out to them in his sophomore year. A nerve-wracking notion, yes, but one major hurdle that Skyler felt he had to leap across.
So last year, Skyler Edge did come out to his class at Facing History New Tech High School. His teacher, Martha Verde, and counselor, Maria Balotta, arranged a dress rehearsal for the event, which included statistics, slam poetry, a Powerpoint presentation — "all these different things that everybody in the room could relate to," Verde says. As the experiential fulcrum for high school students in the LGBT community, coming out publicly is a delicate and complicated move. Skyler had support, though.
The event foreshadowed a summertime leadership youth summit in New York, conducted by Scenarios USA. The teacher would pose a question — "Do you consider yourself poor?" — and then students would move to one side of the room or the other, thereby presenting a dichotomy of roles. Skyler says it was pretty interesting to see these groups identify themselves and then discuss their roles relative to the other group.
But then the teacher asked the students if any of them identified as LGBT.
"I was looking around and I was thinking I probably shouldn't go," Skyler says. Absolutely no one else was. After a bit, I realized that I had to go over there. I was standing all alone. I kept looking at everyone, and we all just stared at each other for a long time. I was thinking about just walking back and pretending that it never happened. But then they all started clapping. That was really powerful, because that was the only time that anyone was in a group alone."
Verde is looking on and she can't help but smile. "That was brave."
And Skyler was
very
brave, she says, when he decided to stand up in front of his school's four Facing History classes last year and explain what being transgender was all about. "My classmates were very, very supportive," he says. "Eventually, one of my friends stood up and told me they were proud of me and how happy they were for me. And then someone else got up and said something similar. And then another and another, until everyone in the class had talked."
Verde, who had worked closely with Skyler for weeks in arranging the event, said she was crying at her desk on that day and finding herself in awe of this student who had gotten up to speak.
"I had never seen 10th-graders be so kind," she says with a smile.
The emotional reception Skyler got from his classmates isn't completely typical for teenagers who wrestle with coming out. But he hopes it will become so.