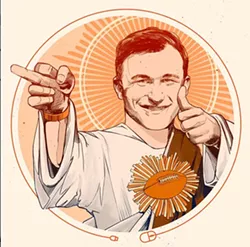 That's basically all there is to the news: Johnny Manziel will start on Sunday, hot on the tail of a truly bleak performance from former starter Brian "
HOYERHOYERHOYER
" Hoyer.
"It's natural to lean the other way given the results,'' Coach Mike Pettine said, referring to that game, which the Browns lost 24-25 against the Colts. Throughout the game, fans in every section were seeing rubbing their fingers together and calling for revolution. 41-year-old Carl Winterson, a Mentor resident, reportedly reached over to his buddy, tapped him on the shoulder and said rhetorically, "What the hell are they THINKING? Get JOHNNY in there!" Carl's buddy was shivering and couldn't hear him, though.
Johnny Cometh, Cleveland.