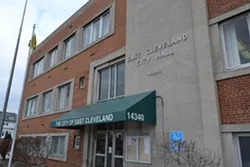 DOUG BROWN / SCENE
East Cleveland City Hall
When East Cleveland's borrowing plan to secure two snowplows fell through, newly minted Cuyahoga County Exec Armond Budish took up the call to get the inner-ring suburb's deal back on track.
In short: Huntington Bank stepped up as a lender and will front $256,390 for the purchase of two snowplows, and East Cleveland will repay the bank in several installments (let the record stand, for heaven's sake). Community Development Block Grant award dollars from the the U.S. Department of Housing and Urban Development will reimburse the city's costs.
Budish's prepared statement is thick with public officialspeak, but his recognition of major problems in (politically) minor corners of the county is important: "Collaboration and partnership with all 59 county communities is a top priority of my administration. We are excited to provide a creative solution to an urgent public safety concern for East Cleveland."
It's a promising sign for the executive, who
assured voters
that "pulling people out of poverty" would be a major narrative in 2015 for his office. The snowplow fix is a small step toward basic city services in a city lacking the same. East Cleveland leaders, when they discuss these matters at all, are still debating the merits of municipal bankruptcy, after all. There's presently
no shortage of civic problems
plaguing the city.
Talk of a
merger with the city of Cleveland
, while embraced by some on both sides of the boundary line, is always immediately shot down by Mayor Gary Norton and City Council President Barbara Thomas.