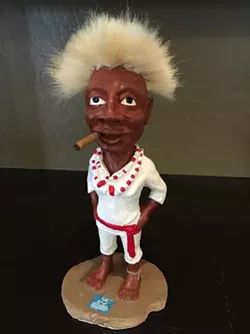 Jobulifestyle.com
"Is very bad to steal Jobu's rum. Is very bad."
Lifelong chums Scott Suciu and Matt Nebeker, of Phoenix, Ariz., have been obsessed with
Major League
since childhood. Go figure.
In 2009, they thought it'd be fun to buy a Jobu figurine online. Jobu is of course the voodoo doll of big-hitting Cuban refugee Pedro Cerrano in the 1989 film, (played by Dennis Haysbert, long before the Allstate gig). But to Suciu's and Nebeker's dismay, they couldn't find one. Jobu was nowhere to be found.
They promptly took matters into their own hands and created their own Jobu replica, modeling him out of clay. In casual conversations online, they realized others wanted one too.
Now, with official licensing from the film and a production contract in China, the Jobus are nearly ready for purchase at
Jobulifestyle.com
. The figurine will sell for $29.99, and Suciu said he's hoping to have them ready to ship by the end of spring training.
"The packaging may be the coolest idea we've had so far," Sucio wrote
Scene
in an email. "We are making the packaging of the figure to look like Pedro Cerrano's locker, hopefully complete with a shrine, etc. The outside of the locker will have photos of players like Wild Thing, Dorn, Lou Brown, Taylor."
Suciu said that he and Nebeker have already found a pretty robust niche market for the doll — baseball teams looking for luck, wives looking for Christmas gifts for their husbands — and that he's received requests from as far away as Australia.
"I took the prototype to a sports bar recently with some friends," Suciu wrote, "and we had people taking pictures with it, older ladies knowing the name, and guys that were busting each others balls for not knowing who he is."
If you're a
Major League
fan, or simply hoping for some magic at Progressive Field this year, consider buying the Jobu figurine as an investment in the franchise. (Just don't steal his rum).