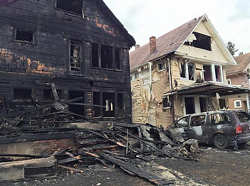 After some 12 hours of going without an operable fire truck, the city of East Cleveland is back online with one working fire truck as of yesterday. Fire crews cleaned out the fuel system, in which a water leak had been causing damage.
The fix came just in time, too, as a major fire swept across several homes on Bender Avenue early this morning. Cleveland Fire Department provided assistance.
"Here at ECFD we always find a way to operate and get the job done with many obstacles," the department
tweeted
today.
No one was injured in the fire; 10 people escaped the burning homes.
East Cleveland is in the midst of state-ordered "
fiscal emergency
," which means major purchases must now be approved by the state government.