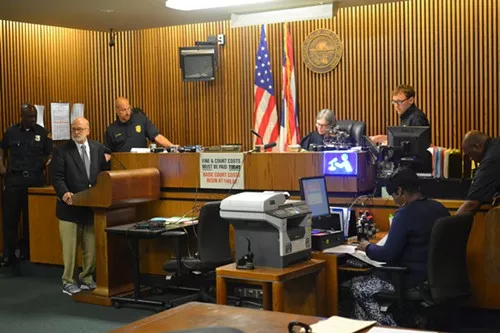 Doug Brown / Cleveland Scene
Inside the courtroom on Monday morning
"They trapped us in the corner. They didn't say disperse, they said move back," said one young man who just spent two nights locked in jail after he was arrested in a Warehouse District alleyway. "And then another riot crew came on the other side and they were saying move back. They trapped us on both sides and we were in the middle like where do we move? Where do we move? They said 'Move back! Move back!' But there's nowhere to move. We got lined up against the corner, and they said 'one by one, we'll let you guys go.' There were like four people gone and they said 'stop! Everybody else is going to jail.'"
He was one of more than 50 people released from jail Monday morning following a Memorial Day court appearance in front of judge Marilyn Cassidy. They had been arrested downtown Saturday night, charged with failure to disperse, for protesting (or being around those protesting) the not guilty verdict of Cleveland police officer Michael Brelo.
One group was plucked from East 4th Street. Another group was corralled by cops in riot gear on the small Johnson Court connecting West 9th and West 6th Streets and hauled to jail in a bus. And then they spent two nights locked behind bars — some in the jail at the Justice Center and some in the city's "workhouse." None of them, including a legal observer, are accused of doing anything violent.
For those willing to plea no contest or guilty, city lawyers agreed to amend the first degree misdemeanor failure to disperse charge to a minor misdemeanor (essentially the same seriousness as a traffic citation, a defending lawyer explained). The reduced charge came with no more jail time and fines that were waived by Judge Cassidy. A majority pleaded no contest and went on their way; 20 pleaded not guilty and will fight in court to clear their name completely.
"What do I make of the charges?" said famed civil rights attorney James Hardiman to Scene following the 9 a.m. arraignment, "They're overly bogus. They never should have been charged in the first place. But since they were charged, we're here to deal with it."
Hardiman, of the NAACP, was one of a number of high profile Cleveland attorneys — with Gordon Friedman and Michael Nelson, among others — who volunteered to represent those arrested Saturday night.
"In the sweep that occurred on Saturday, there are a number of issues we have concerns about," explained Michael Nelson, flanked by the other lawyers in an impromptu press conference outside the courtroom. "One, the the ambiguity of the failure to disperse. It wasn't clear. There were a number of people that were just caught up, no differentiation from protester and non-protester. The fact of the matter is there was a significant lack of clarity whether they committed any actual wrongdoing."
Gordon Friedman spoke up: "A point should be made that there is absolutely no reason why the people that were arrested should be held for 48 hours without bond. They should have been released immediately. Most of them committed nothing, some of them committed minor misdemeanors."
Some of the recently-released protesters gathered outside the Justice Center following the arraignment, eating sandwiches and fruit that supporters brought for them, under the watchful gaze of Sheriff's deputies who were guarding a makeshift fence in front of the entrance.
The ones taken to the "workhouse" described being housed in filthy conditions, being given yellow water and finding cartons of expired milk underneath their broken-down bunk.
"We were in the workhouse, it was disgusting," one man explained. "The beds were disgusting, we were getting sick as we were sitting there breathing in that air."
Another backed that up: "Yeah, I was held in the workhouse. It was terrible, I don't think there was anybody in there before us or that it had been cleaned since it was built. The mats we were given had holes ripped through them, the water was disgusting. There was a water fountain, right? The water came out piss-yellow, so no one touched it. We demanded water. So they bring us a cooler of water — piss yellow. Another 30 minutes goes by, another cooler of water — piss yellow. Another 30 minutes, piss yellow. Smelling like fucking eggs. There were spiders everywhere. There was a thing of spoiled milk underneath my bunk — five cartons of spoiled milk from April 20th."
Another protester, 24-year-old Richard Golden, said similar things. "It was filthy, it was nasty. All this tax money we put into this government is going to waste. It's modern-day slavery to me. They incarcerate us into this filthy hole, want us to drink this filthy water, they want us to listen to what they got to say without letting our voices get heard."
Outside the Justice Center, a father was there to support his arrested son. Jason Rodney, a 20-something who grew up in Cleveland Heights and now lives in Minnesota, got arrested in the Warehouse District sweep ("There was a group of us just watching. We were in an alley, police closed off each side of the alley and they arrested us").
"I've spent my life seeing racial discrimination," Rodney said, "and it's been inspiring to see a movement that's led by young black folks and I've been trying to find the right way to show up in there. I was coming there to witness and to be an ally."
Jason said he didn't see his father, David, in the courtroom during the mass arraignment, but he was there watching intently from across the aisle.
"I'm proud of Jason," David Rodney said. "He's a nonviolent person to the core and I know he did nothing wrong, so I was here to support him. It was a peaceful protest that he was involved in, and I'm proud of him."