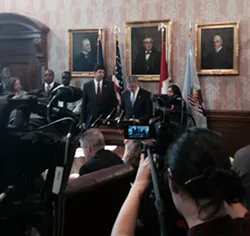 Sam Allard / Scene
Mayor Jackson, probably saying either "defining" or "moment."
In what was either the 4,119th or 4,120th "defining moment" for the City of Cleveland these past few weeks, Mayor Frank Jackson announced and presented the consent decree between the city and the United States of America Tuesday afternoon.
It has the potential, all parties declared, to be one hell of a transformative document. 
The binding settlement took five months to negotiate and is expected to reform police policies and procedures to get local law enforcement back in line with the constitution (from which it had recklessly strayed), and to restore its forsaken trust by making community policing "part of our DNA," per Jackson.
Flanked by U.S. Attorney Steven Dettelbach, Police Chief Calvin Williams, U.S. Attorney's Office Civil Rights prosecutor Vanita Gupta, and — not to be overlooked! — city law director Barbara Langhenry and Community Relations chief Blaine Griffin, Jackson sang the praises of the staggeringly innovative (per Dettelbach) 105-pg document.
And despite repeated reservations during the negotiation process, Jackson made it very clear that he wasn't opposed to the final product.  
Still, though, one wonders: What about all those "inaccuracies" in the initial DOJ report to which Jackson was always vaguely alluding and promising explanations down the road? What of the backroom squabbling the inaccuracies engendered?   
Jackson did not clarify the "inaccuracies,"  preferring instead to let sleeping dogs lie and to celebrate the fact that disagreements in
how
to accomplish certain goals never got in the way of everyone's desire to see the goals accomplished.
The number one goal: A strong, safe community with a constitutional and effective police force.
(And before we continue, may we just please advise City Hall to do something about the air-circulation situation in the Mayor's Red Room? Good
Lord. 
Standing abreast of the ravenous TV reporters, everyone's visible pit stains metastasizing in exponential ways, one had to work to dispel the jungle-barracks vibes. To say nothing of the odors! No one fainted, that I saw, but WCPN's Brian Bull was up near the podium fanning himself with a folder, and Tweeting on mobile devices was out of the question due to all the finger-sweat). 
Despite the furnace conditions, Dettelbach coolly said that implementing the consent decree's many goals will be "hard work," and that every member of the community must work to do so "together." He said this multiple times. And I won't jab Dettelbach — he's a very bright and very earnest dude, and I dig it when he reminds the media to be realistic in his calm and diplomatic way — but his remarks were certainly his speechiest to date, and the repetition of "hard work," "together" may have been an
ingenious bit of subliminal messaging
. He didn't, in fairness, invite us to do so "on 3" and "on 6."
The consent decree's "central component," per Calvin Williams, is the community policing piece, the mandate to "get out of [their] cars and get to know the community."  And indeed, the community will play a much more active role in reform, as within 30 days of the consent decree's effective date — when it's approved by a Federal Judge — the city must establish a Community Police Commission that will regularly meet and report back to Jackson and Williams to offer suggestions and ensure best practices. 
The consent decree obviously addresses use of force policies and procedures — among its mandates: guns may no longer be used as blunt-force weapons, praise God — and establishes strict reporting procedures. If officers don't report a use of force incident by the end of the shift on which it occurred, they can face punishment "up to and including termination."
Vanita Gupta addressed police officers specifically during her remarks. She said that officers were often prevented from doing their best work because of a lack of adequate equipment and resources. The Consent Decree calls for revamped technology and equipment for officers. (This is in addition to the body cameras, which Jackson says Cleveland Police will be wearing city-wide by the end of the year).
Another major (and unique) component of the Consent Decree is the focus on police response to those with mental health issues. In addition to crisis intervention training, the Consent Decree calls for the formation of a Mental Health Advisory Committee and even a mental health coordinator to liaise with the community and the police. 
Lots of great stuff. But the natural question, in fact the first, posed by WKYC's Tom Beres at the stuffy afternoon presser, was "how much is all this going to cost? And who's going to pay for it?"
Frank Jackson's response: We don't know yet!
In which case, time for some Jeff Johnson realtalk: