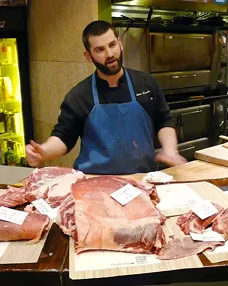 Chef Adam Lambert and Fresh Fork Market's Trevor Clatterbuck have partnered up to bring a unique new grocery concept to Ohio City shoppers: A market-and-meat shop that will offer hyper-locally sourced produce, grains, eggs, dairy, and meats.
Products sold at the Lorain Avenue storefront (specifically, 3208 Lorain Ave.) will be gathered fresh from more than 100-area farms, while slaughtered animals will arrive whole, hanging, and ready to be converted into choice cuts and charcuterie.
"We're bringing in the whole animal," Lambert told Fresh Water Cleveland recently. "Nothing goes to waste."
The brick-and-mortar storefront will be divided into two sections: one to feature produce and dairy and the other for meats and a small kitchen which serve limited take-out options to diners on the go.

As for a name? The duo is toying around with Ohio City Provisions: Market and Butcher, though nothing has been confirmed yet.

Folks can look for a fall 2015 opening.