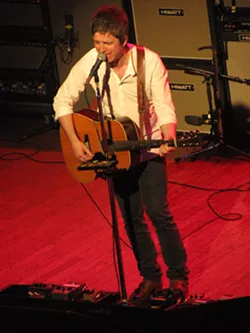 The last time Noel Gallagher performed in Cleveland was in 2001 at a Blossom Music Center gig with his currently defunct (but still beloved) band Oasis. Last night at a sold-out House of Blues show with newer band Noel Gallagher's High Flying Birds, the 48-year-old guitarist showed the passage of time hasn't diminished his vocals, songwriting or rabid fanbase. You can see a slideshow from the concert
here
.
Gallagher and his band — rhythm guitarist Tim Smith, bassist Russell Pritchard, keyboardist Mike Rowe, and drummer Jeremy Stacey — tore through a good portion of their self-titled 2011 debut and this year's stellar
Chasing Yesterday
. Occasional appearances by a three-piece horn section added brassy, staccato backbone on multiple songs (especially on electrifying versions of "Do The Damage" and "The Mexican") and circus-like loopiness on "The Death Of You and Me." Slow-burners such as the keening, slightly ominous "In The Heat of the Moment" and the soulful "Riverman" were incisive, while the brisk standout "You Know We Can't Go Back" possessed the anthemic Britrock edge found in Oasis' best work.
To the delight of the soccer hooligan-like audience, Gallagher indeed also recast several Oasis songs. Wisely, "Champagne Supernova" wasn't quite as dreamy and spaced-out as the original studio version (and the added guitar licks on the ending coda were sublime), while a workmanlike run-through of b-side "Whatever" and a full-on rock 'n' roll take on "Digsy's Dinner" was whimsical and sweet. Only a slower version of "Fade Away," which was more acoustic-based and sing-songy, didn't register.
Throughout, Gallagher alternated between an impressive array of acoustic and electric guitars; however, his voice sounded as pristine as it did when Oasis started in the early '90s. And despite his notoriously hilarious, loose-cannon interview style, the elder Gallagher brother is still a rather sedate live performer, pausing only occasionally to address audience exhortations or questions ("How am I? I'm fucking sensational!"). Yet the sheer power of the band, when coupled with the frothing-at-the-mouth audience, created a crackling atmosphere.
In fact, by the time the encore arrived, the crowd was suitably amped up thanks to the set-ending, acoustic-prominent strummer "If I Had A Gun." Gallagher obliged with a surging, horn-augmented take on the Oasis b-side "The Masterplan," which drew massive cheers, and a fiery take on the blackened disco single "AKA...What A Life." The final song, Oasis' "Don't Look Back In Anger," turned into a delirious venue-wide sing-along: Strangers hugged, threw their hands (and phones) in the air and shouted along to each and every lyric with the gusto of one a.m. drunken revelry.